Chartered Amalfi Coast by Sea
Encounter the Amalfi Coast
Let the siren song of the Amalfi Coast lull you into the sweetest of dreams as you set sail for an exclusive voyage along the Costiera aboard your luxurious private yacht. From the pastel island beauty of Ischia and Procida to the glamorous allure of Capri, and the cerulean coves of the Amalfi Coast to the sundrenched splendor or Sorrento, behold the timeless beauty of the Bay of Naples by sea.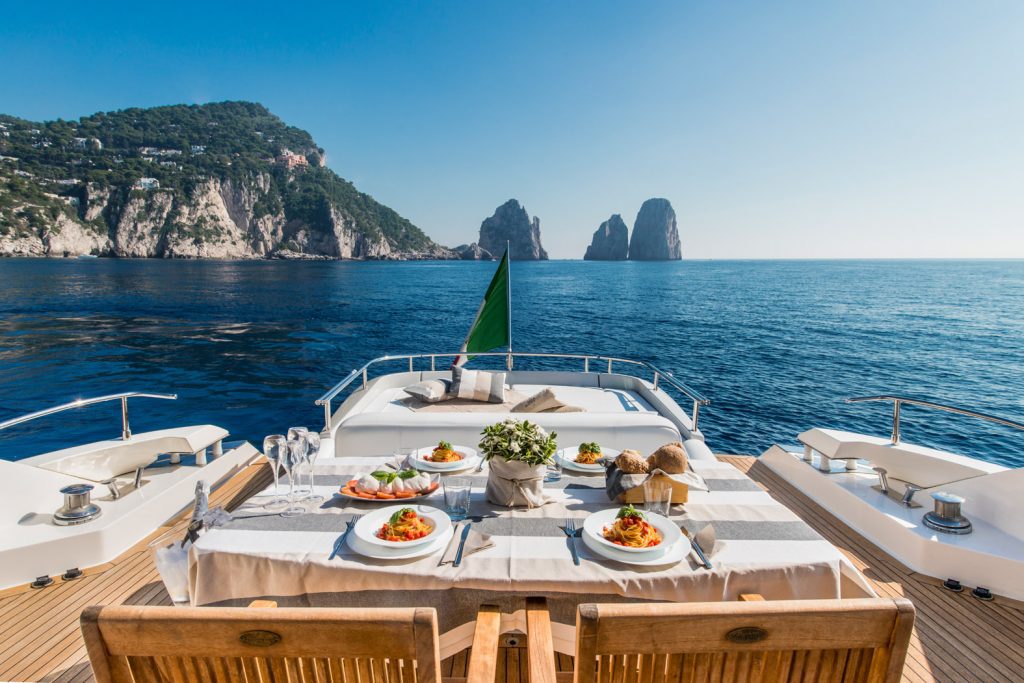 4 to 6 Guests / 3 Cabins (1 Master, 1 VIP, 1 Twin Beds) / 3 Bathrooms
A luxurious experience at sea, your private yacht has been outfitted with the finest of details to ensure the most wondrous of voyages. With an expert Captain and crew waiting to welcome you, the 23 meter, Aicon 72 SL motorized yacht offers ample areas at the stern and the bow, perfect for sunbathing and enjoying the Costiera breeze. Completely refitted in 2016 from the inside out, the yacht offers a curated selection of water toys, a dive platform and a big afterpeak where the tender is located, and with a speed of 35 KTS, is able to reach the most enchanting hidden coves and secret shores. Large, luxurious living areas are complemented by plush guest cabins with ensuite bathrooms, air conditioning throughout the boat, satellite tv, an intercom system, Audio Bose Surround System, and WiFi.
In the late afternoon be welcomed by your CB Regional Ambassador at Napoli Centrale Train Station or your Naples hotel, and set off by chauffeur for the port where your luxury yacht awaits. Celebrate the start of your Amalfi Coast voyage with an aperitivo of Prosecco and other delights and warm welcome by the Captain and crew, as you board your luxury yacht and set off for the sublime Sorrentine Peninsula. Arrive to the Port of Sorrento, where your yacht will be moored for the evening, and get ready to toast to your adventure at sea with a gourmet dinner hosted on board, and a restful night on the water.
MEALS: Dinner
Awake to sunshine and sea as you enjoy an al fresco breakfast served on board, and set sail for the enchanting Phlegraean archipelago of islands. Arrive to the marina of Ischia where your CB Regional Ambassador will be waiting to help you explore some of Ischia's most splendid corners, including Ischia Ponte and the 15th century Castello Aragonese. Enjoy a taste of the local Biancolella d'Ischia varietal during a private visit to a boutique family-owned winery before savoring a lunch of authentic Ischian recipes highlighting seasonal ingredients. This afternoon you'll set sail for the sherbet-hued island of Procida and enjoy free time to explore its antique center and charming 17th century Marina Corricella. Upon return to Ischia, anchor will be set in a private marina, and dinner will be a relaxing affair served on board.
MEALS: Breakfast, Lunch, Dinner
After a leisurely breakfast on board, the yacht will set sail from Ischia for the iconic Island of Capri. Experience the majesty the island's fabled coastline of coves and grottoes, including the dramatic Faraglioni rock formations and Blue Grotto, as you delight in free time to swim in azure waters and sunbathe at your leisure. Today's lunch will be a chic, Michelin-starred event highlighting coastal Neapolitan flavors at an exclusive restaurant suspended above island's signature blue waters. After mooring in the marina of Capri, spend the afternoon discovering Capri's sophisticated Piazzetta, shopping and exploring at your leisure, followed by an exquisite dinner aboard the yacht.
MEALS: Breakfast, Lunch, Dinner
Following breakfast on board, you'll set sail from Capri for the glorious Costiera Amalfitana, with time to swim along the way in the turquoise waters of the splendid Bay of Nerano. A leisurely lunch will be enjoyed aboard, before arriving to the glamorous town of Positano with its pastel terraces to the sea. Delight in free time to explore Positano's Spiaggia Grande and sophisticated boutiques independently, before once again setting sail for the marina of Amalfi, where you'll be moored for the evening. Be greeted by your private chauffeur and depart for a convivial cooking experience, from learning the secrets of authentic Neapolitan-style pizza to handmade pasta paired with stunning Amalfi Coast views. Following a delectable dinner of your creations, you'll return to the yacht by chauffeur and fall asleep against the sparkling backdrop of Amalfi by night.
MEALS: Breakfast, Lunch, Dinner
Enjoy breakfast on board and a free morning to explore the enchanting center of Amalfi, with its breathtaking Duomo and picturesque Piazza Duomo. Shop for treasures to take home from Amalfi's many artisan ceramic and handmade paper shops, and breezy clothing boutiques, before savoring lunch aboard the yacht. You'll set sail for Sorrento, all the while enjoying plenty of time to sunbathe and swim before arriving to the Port of Sorrento in the late afternoon. Bid arrivederci to your wonderful crew and check-in to your 19th century residence turned five-star seaside stay, Grand Hotel Excelsior Vittoria, nestled in the heart of historic Sorrento. The evening is yours to discover Sorrento independently and enjoy the amenities of your splendid stay.
MEALS: Breakfast, Lunch
After breakfast and check-out, your private chauffeur will arrive to transport you to Naples Capodichino Airport or Napoli Centrale Train Station for departure, and the end of your Encounter.
MEALS: Breakfast
Pricing for this Chartered Encounter begins at:
$9,990/per person*, based on double occupancy and a travel party of 4
$7,250/per person*, based on double occupancy and a travel party of 6
*The final price of your Chartered Encounter will be determined by your travel party size, requested dates, and any additions or overages as related to daily incidentals, organized meals & snacks, and/or scheduled chauffeured transportation.
A seamless travel experience designed by CountryBred from arrival to departure
An expertly prepared route determined by the captain, taking into consideration weather, water and safety conditions, time of year & length of voyage. Please note routes can be adjusted according to daily weather & water conditions, at the discretion of the captain and crew.
24/7 support during your Chartered Encounter by certified boat crew
Chauffeured, private transportation for arrival & departure transfers & all on shore touring activities, as indicated in the itinerary
Private touring with our professionally licensed & English speaking Regional Ambassadors, as indicated in the itinerary
A curated selection of signature local experiences & engaging expert-led activities, exclusively developed to showcase the culture and cuisine of the on shore regions you will be exploring
All entrance fees, required reservations & tickets associated with on shore touring during your Chartered Encounter
On board dining highlighting seasonal ingredients and regional flavors, including daily breakfast & one signature meal per day
Organized on shore dining experiences, as indicated in your itinerary
Daily assortment of snacks and refreshments, including select alcoholic beverages, wine, beer, soft drinks, water, coffee & tea
Daily cabin cleaning service with midweek changing of linens & towels
Fuel & docking fees
On board internet access
Traveler Welcome Package
Taxes & base gratuities for captain and boat crew, private chauffeurs & Regional Ambassadors
International or regional airfare
Airport taxes and charges, airport parking or excess baggage charges
Expenses for activities/excursions not included or identified in the Encounter itinerary
Transportation expenses incurred during free time
A-la-carte food orders, alcoholic beverages or wines outside of pre-arranged menus during organized meals
Any meals or beverages during free time, not indicated in the Encounter Itinerary
Personal expenditures and personal spending money
On board incidentals not indicated in the Encounter Itinerary
Travel insurance including health, accidents, lost baggage and trip cancellation
Passport and Visa expenses
All other items that are not mentioned or included in your Encounter itinerary
Once you submit your Booking Request, our team will get to work confirming whether your preferred travel dates are available. Within 72 hours of receiving your Booking Request, we will provide you with a quoted trip price for your preferred dates and travel party size, along with booking instructions that will include steps on how to submit your required trip deposit.
WHAT IS THE MINIMUM & MAXIMUM OCCUPANCY FOR THE BOAT FEATURED IN THIS CHARTERED ENCOUNTER?
The boat featured in this Chartered Encounter is available for exclusive charter only. The boat charter requires a minimum occupancy of 4 guests, and can accommodate a maximum of 6 guests.
Why is my quoted trip price different than the published starting price per person?
While our Chartered Encounters are pre-designed and ready to book travel experiences, there are important factors that may impact the quoted trip price, namely boat availability, number of travelers in your party, the minimum charter required, and whether you are requesting to travel during high or low season in a specific region or during a national holiday/special event.
What happens if my requested travel dates are not available?
Should your requested travel dates not be available, or if they happen to encompass a national holiday or special event that will significantly impact your quoted trip price, we will certainly let you know and work with you to identify alternate travel dates.
May 
June
July
August
September 
This Chartered Encounter includes a chauffeured private transfer from your hotel in Naples or Napoli Centrale Train Station upon arrival, and a chauffeured private transfer to Naples Capodichino Airport or Napoli Centrale Train Station for departure.
Private transfers to and from alternate locations not included as part of this Chartered Encounter, such as a residence, car rental office, etc., can be requested at an additional cost.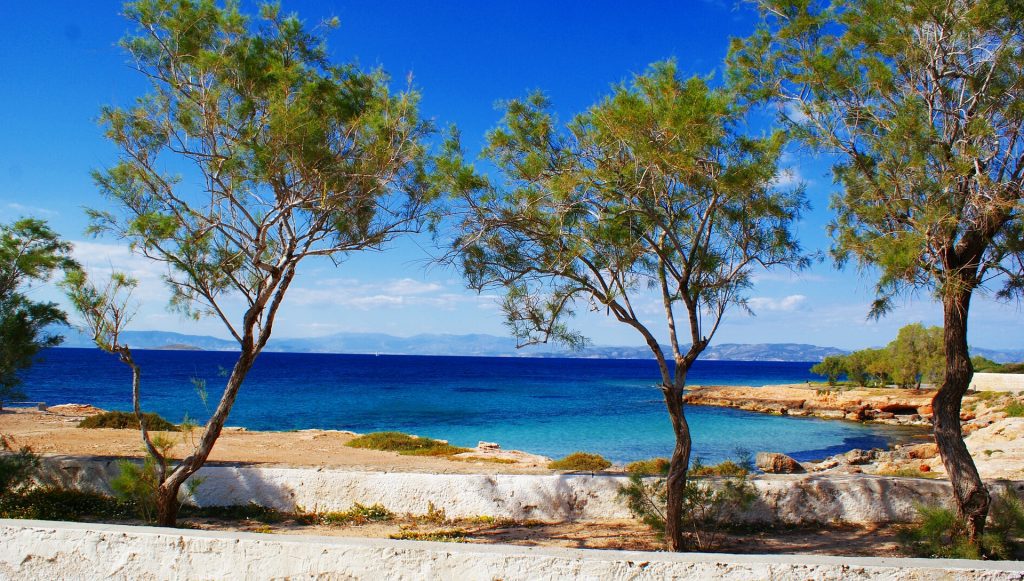 Chartered Greek Saronic Islands
Fall in love with the serenity and sophistication of the Saronic Islands as you set sail by luxury catamaran for an enchanting odyssey to some of the most unspoiled beaches, secluded coves and blissfully vintage seaside villages in all of Greece.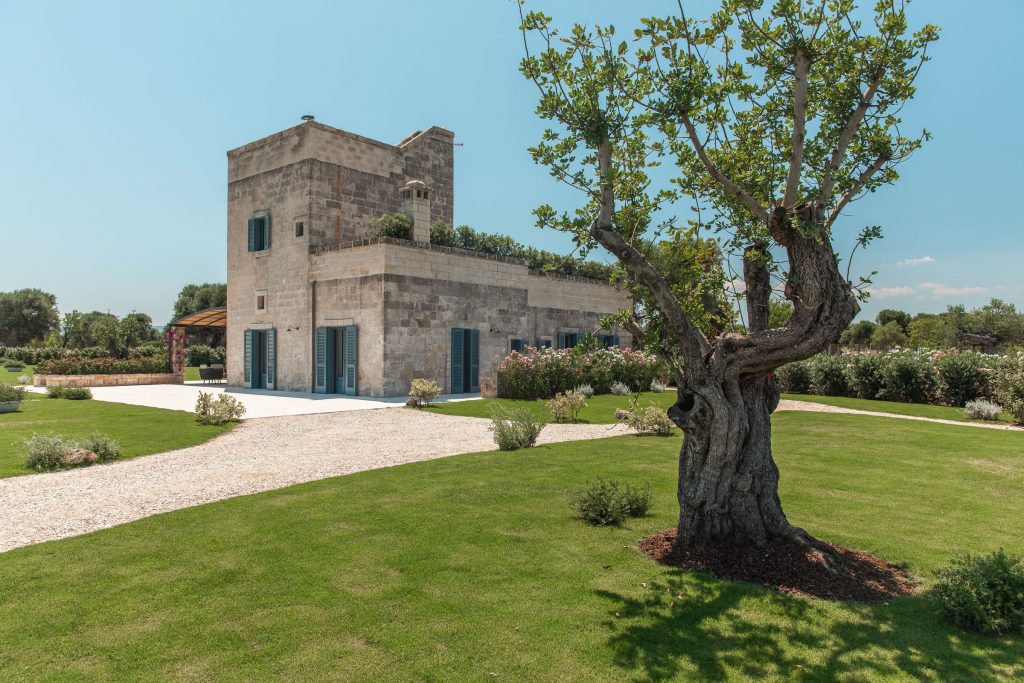 CountryHouse Puglia Piccola
Let the beauty of Puglia's Adriatic splendors and Baroque wonders lull you into a state of sublime bliss while enjoying the superbly private comforts of your piccola masseria.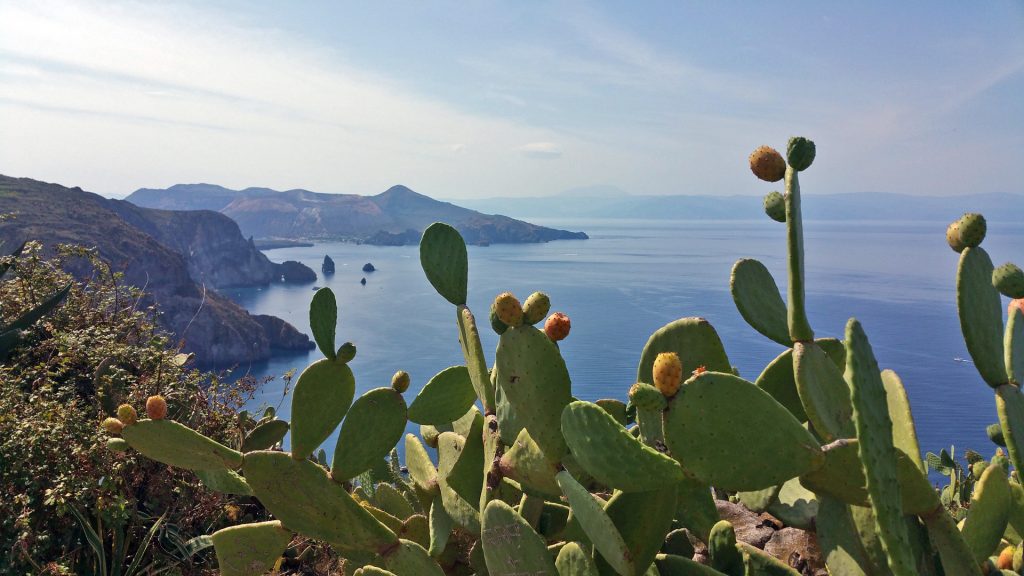 Discover the beguiling heritage of the Mediterranean's largest island as you getaway to Sicily's most secluded seaside stretches and stunning hideaways.

"The trip overall was amazing and the logistics were executed flawlessly which allowed for a level of relaxation and unpretentious luxury that resulted in a truly memorable vacation."
"A work colleague recommended CountryBred for my milestone birthday trip and we were thrilled with our travel experience. The trip exceeded our expectations- filled with one of a kind experiences. We are already talking about our next CountryBred journey!"

"If you're looking to put together that 'best trip ever' adventure to Europe for family or friends, nobody does it better than CountryBred. Carefully curated trips are a specialty!"
Interested in a 100% tailor-made experience?
Perfectly handcrafted just for you. Our Couture Encounters are artfully designed start to finish according to your cultural interests, preferred travel pace, and ideal length.