Hilltop Towns of Tuscany, Umbria & Rome
Encounter Tuscany, Umbria & Rome
Set off for a unique exploration of Central Italy's fabled countryscapes and medieval hilltop treasures preserved by time, from the secret villas and gardens of the Castelli Romani and the emerald green heart of Umbria to the timeless beauty of Southern Tuscany. Behold Umbria's tranquil towns of stone and enchanting natural wonders while savoring the delicious bounty of its verdant lands. Appreciate the pastoral allure of Tuscany from the cloistered abbeys and undulating golden hills of the Crete Senesi, to the regal vines of Chianti Classico, Montepulciano and Montalcino. Uncover paths less traveled and works of art tucked away by time as you journey from Viterbo to the heart of Rome, and experience cultural triumphs from the ancient to the Renaissance.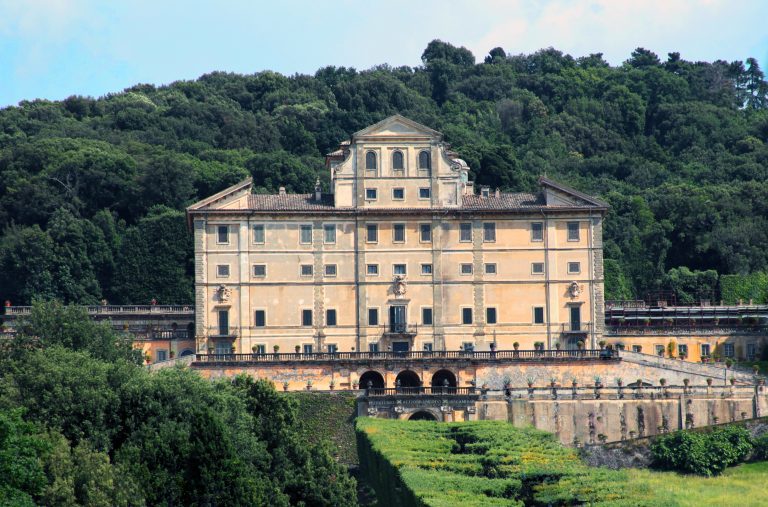 Your splendid journey through Central Italy will be begin with arrival to Rome Fiumicino Airport or Rome Termini Train Station, where your chauffeur will be waiting. Set off for the bucolic hillsides of the Castelli Romani, revered for its many noble villas and boutique wine production, for arrival to your sumptuous 16th century villa turned elegant, four-star stay, Park Hotel Villa Grazioli. Celebrate the start of your Encounter with an epicurean lunch honoring the region's materie prime at a uniquely wine inspired restaurant. Spend the rest of the day free to explore the lovely nearby town of Frascati or appreciating the serene amenities of your villa retreat.
Stay: Park Hotel Villa Grazioli
Meals: Breakfast, Lunch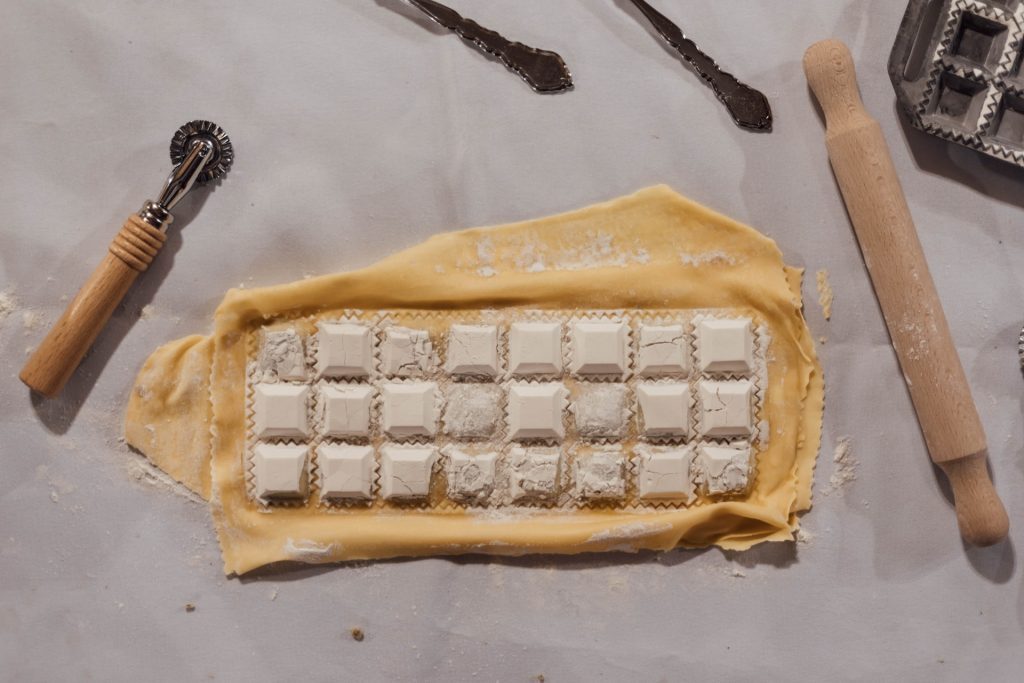 Today set off to discover the authentic food traditions of the Castelli Romani, led by the culinary insights of your local food expert. Your epicurean morning will begin by perusing the artisanal sheep's milk cheeses of a celebrated cheese monger, before visiting a butcher shop known for their prized cuts, followed by a stop at a paneficio (bakery) renowned for its production of delicious rustic breads. Be welcomed into the inviting warmth of your local culinary expert's own home kitchen for a private, hands-on cooking lesson on how to prepare local Roman dishes, before savoring your creations for lunch, paired with regional Castelli Romani wines.
Stay: Park Hotel Villa Grazioli
Meals: Breakfast, Lunch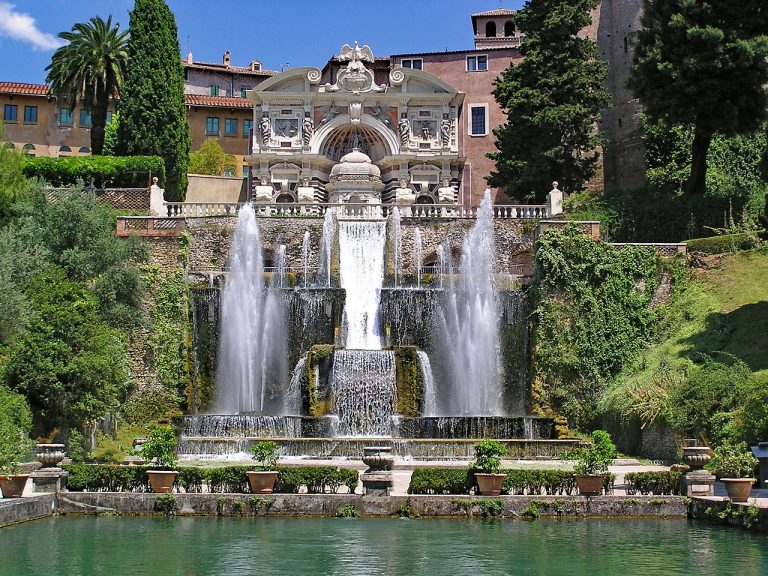 Depart your regal Castelli Romani stay by chauffeur for the picturesque hilltop center of Tivoli, where your CB Regional Ambassador, an Archaeologist, will help you discover the enchanting network of terraced Renaissance water gardens and elaborate fountains of 16th century Villa d'Este, a UNESCO World Heritage site. Savor a lunch of regional specialties paired with beautiful views of the Castelli Romani countryside at a sophisticated eatery in Tivoli, before traveling onward to the emerald landscapes of Umbria. Arrive in the ancient Roman hilltop town of Spoleto for free time to meander along its picturesque neighborhoods and appreciate a unique glimpse into the region's ancient Roman history, with such sites as the Teatro Romano, an amphitheater dating back to the 1st century AD, and the Casa Romana di Vespasia Polla. From Spoleto you will continue by chauffeur to the walled city of Norcia, nestled at the foot of the Monti Sibillini, for check-in to your 16th century palazzo turned sophisticated, four-star hotel, Palazzo Seneca
Stay: Palazzo Seneca
Meals: Breakfast, Lunch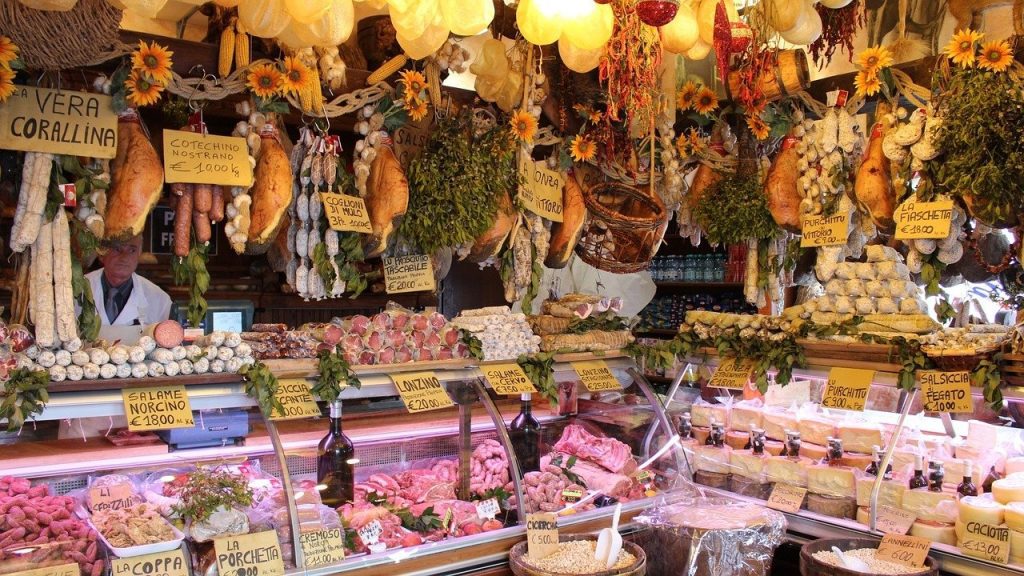 Spend the day uncovering the local flavors and food products that have made Norcia an epicurean standout, starting in the scenic forests of the Monti Sibillini national park where an expert Truffle Hunter will lead you in search of the prized tuber, Tartufo Nero di Norcia, while providing insights on the town's unique truffle hunting legacy. Your morning of truffle hunting will be crowned with an al fresco picnic lunch featuring a true taste of Norcia's famed black truffle and other local specialties. Travel to a family-owned Norcineria to learn about the region's fine tradition of butchery shops dedicated to the handmade curing of pork products, where you'll delight in a special sampling of their succulent porcine delicacies spiced to perfection, including salami and prosciutto. Your afternoon will culminate with a visit to the chocolate atelier of a local artisan to learn the process for crafting fine Norcia style chocolates before relishing a sweet sampling of their cocoa creations. Tonight raise a glass to Norcia's hyper-local ingredients with an innovative, multi-course ode to Umbrian culinary heritage at Palazzo Seneca's heralded Michelin-starred restaurant, Vespasia.
Stay: Palazzo Seneca
Meals: Breakfast, Lunch, Dinner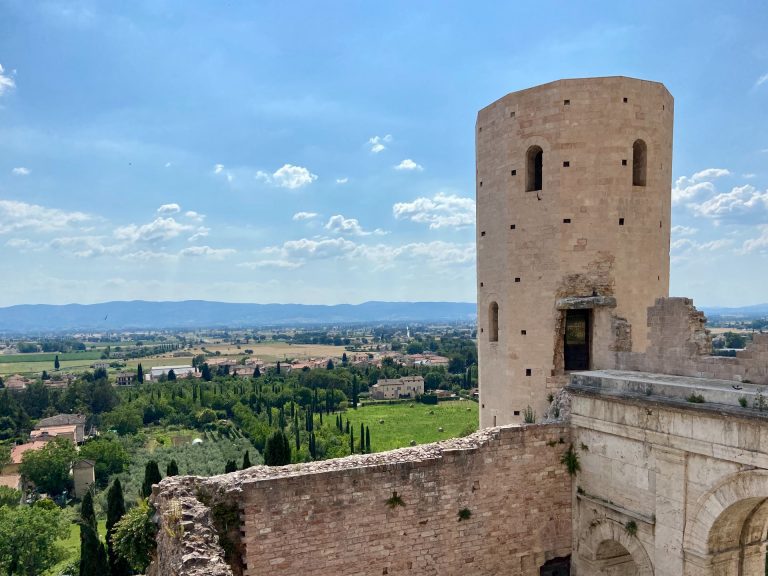 From your sophisticated Norcia stay set off by chauffeur for the Strada di Sagrantino wine route of Montefalco. Arrive to the celebrated estate of perhaps Umbria's most preeminent producer of stellar Sagrantino di Montefalco wines, and embark on a private visit of the vineyards, barrel room and cellar, followed by a special tasting flight of the estate's esteemed wines, including Montefalco Sagrantino DOCG and Montefalco Rosso DOC. Venture to the walled center of historic Spello, considered one of the most beautiful villages in all of Italy. Be welcomed by our CB Regional Ambassador and embark on a private walking tour through Spello's quaint medieval center of meandering cobblestone lanes flanked by flower boxes in bloom, while learning about its rich Roman history. Stop for lunch at an eatery whose ambiance is as delectable as the local dishes it serves. From Spello travel next to the breathtaking medieval city of Perugia. Discover the city's captivating center during a guided visit, while learning about its Etruscan roots and importance as a center for culture, art and learning since the Middle Ages. End the afternoon with arrival to your refined 15th century country estate, four-star Villa di Piazzano, situated on the border between Umbria and Tuscany.
Stay: Villa Piazzano
Meals: Breakfast, Lunch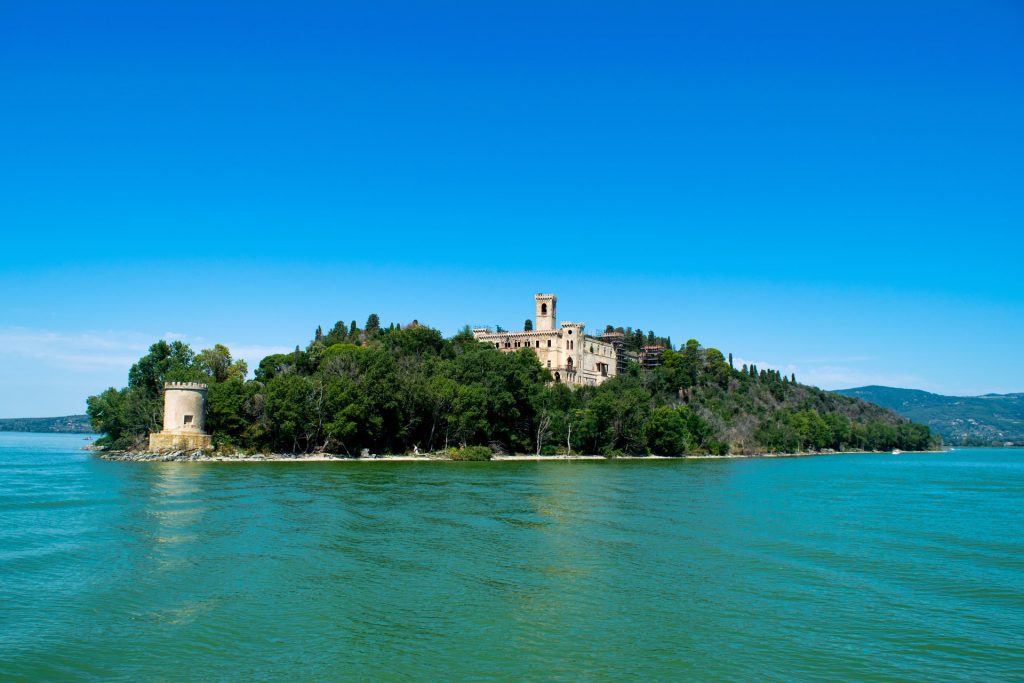 Depart on a chauffeured drive along the picturesque Umbrian countryside en route to Lago di Trasimeno (Lake Trasimeno), where you'll spend time experiencing the area's natural beauty and golden olive oil route. Be welcomed aboard your private boat and embark on a leisurely cruise around the lake to admire lovely views of Isola Polvese and the idyllic hamlets encircling the lake. Stop for a guided exploration of the Old Town of Passignano sul Trasimeno, a lovely medieval village featuring its original fortified walls and hilltop fortress. From the shores of the lake travel into the lush olive groves of the surrounding countryside to the olive mill of a noted family of producers, where you'll enjoy a tasting flight of the frantoio's award winning Extra Virgin Olive Oils elegantly reflecting the DOP Umbria Colli del Trasimeno region. Savor a gourmet lunch of farm forward dishes that highlight the region's prized legumes, grains, vegetables, and of course olive oil, with a modern touch. Return to your bucolic villa in the country for a relaxing free evening at your leisure.
Stay: Villa Piazzano
Meals: Breakfast, Lunch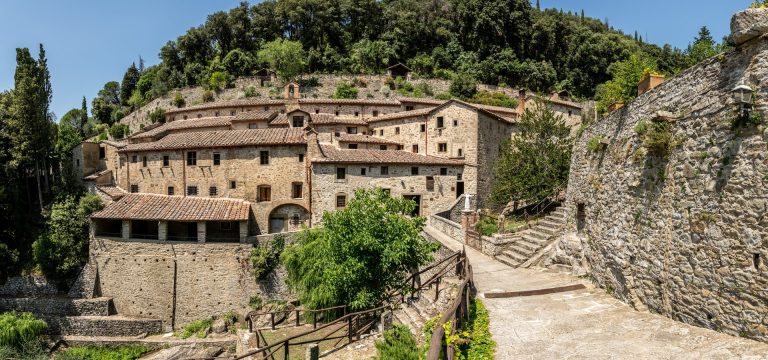 This morning set off for a stunning nature walk through the bucolic countryside and woodlands that surround the lovely hilltop town of Cortona. Led by your CB Regional Ambassador, follow in the footsteps of St. Francis of Assisi as you travel along a unique pathway, through picturesque forests and cascading waterfalls, leading to a 13th century convent founded by St. Francis and his Franciscan order. During your visit, learn more about the convent's fascinating history and stop to admire its lovely gardens. From the trail you'll be transported to the scenic center of Cortona for a well deserved lunch of traditional dishes from the Arezzo province at a quaint osteria. Delight in a free afternoon to independently explore Cortona's architectural treasures, such as the Piazza Della Repubblica and Palazzo Comunale, before returning by chauffeur to your hotel.
Stay: Villa di Piazzano
Meals: Breakfast, Lunch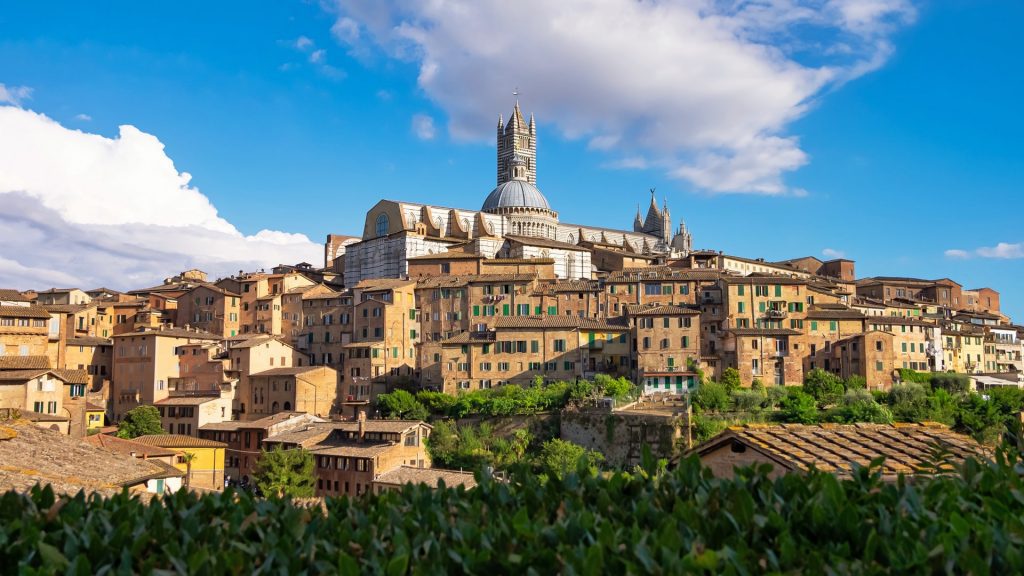 Today you will continue your journey through Toscana with arrival to the stunning city of Siena. After being welcomed by your CB Regional Ambassador, explore Siena's historic core, including its iconic medieval square, the Piazza del Campo, punctuated by the 13th century Palazzo Pubblico and its striking Torre del Mangia. Along the way, be welcomed into an invite only contrada neighborhood to learn about their cultural significance and participation in Siena's annual Palio, before enjoying a lunch of authentic Sienese cuisine at a delightful osteria in heart of the city. Spend time in the afternoon visiting the medieval borgo of Monteriggioni, a spectacular fortified village offering a window into Tuscan society during the middle ages with its original circuit of 13th century stone walls and towers, which are a site to behold. End the day with arrival to your fairytale five-star retreat nestled in the hills of fabled Chianti wine country, Castello di Spaltenna, and a free evening to get acquainted with your glorious accommodation.
Stay: Castello di Spaltenna
Meals: Breakfast, Lunch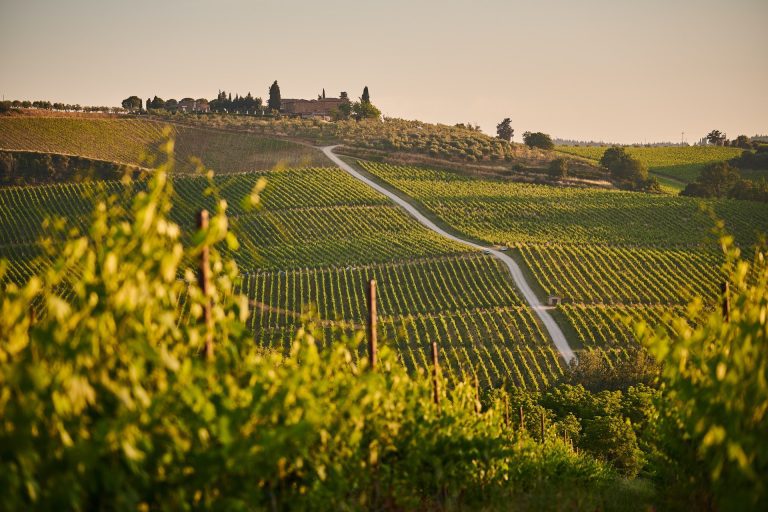 Experience the signature wines and singular vineyards that have put Chianti Classico Wine Country on the global wine map with a day of wine appreciation. Be welcomed to the storied wine estate of a noble family whose winemaking dynasty has spanned over six centuries. Embark on a private visit of the winery's vineyards and historic aging cellars, before savoring a lunch of Tuscan cuisine paired with the producer's coveted vintages, at the estate's acclaimed Michelin-starred restaurant. In the afternoon travel to the historic winery of a producer revered for their stellar Chianti Classico DOCG vintages and legacy of fine viticulture. Enjoy a private tour of the winery and surrounding 12th century borgo before enjoying a multi-flight tasting of the estate's signature Chianti Classico DOCG and Super Tuscan blends. Tonight delight in a free evening to enjoy your hotel's splendid amenities and scenic Chianti setting.
Stay: Castello di Spaltenna
Meals: Breakfast, Lunch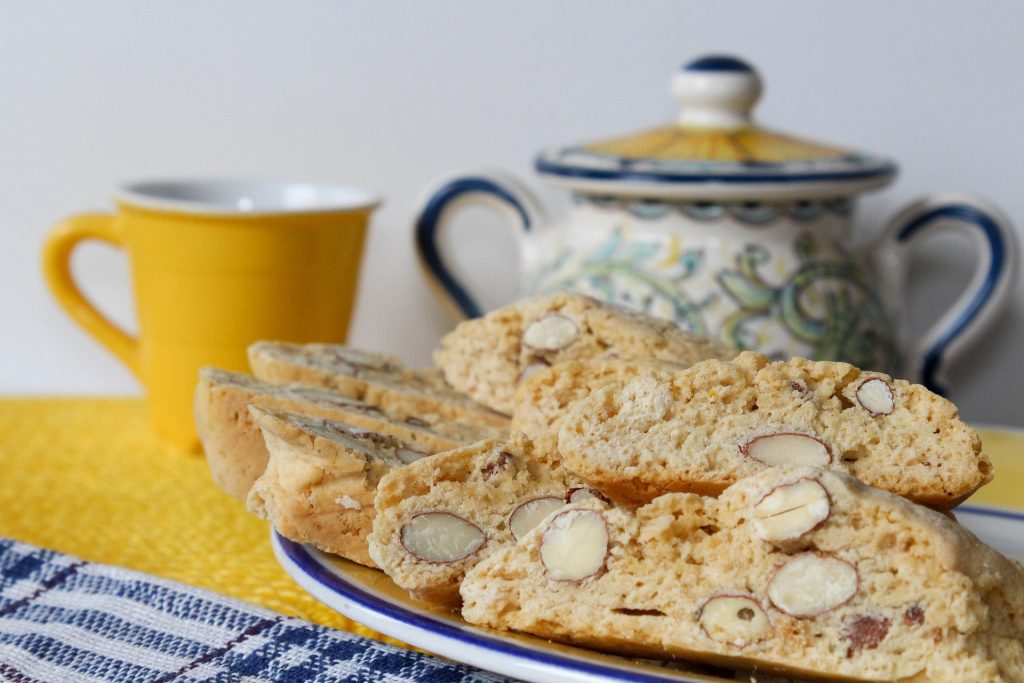 From your splendid hideaway in Gaiole in Chianti depart by chauffeur for the fabled wine town of Montepulciano where you will have free time to independently explore the many quaint wine taverns and gourmet shops of its historic center. Following your free time, arrive to the gourmet kitchen of a local chef where you'll roll up your sleeves for an exclusive Cantucci biscotto making workshop, culminating with a tasting flight of prized Vin Santo wines paired with your handmade creations. Continue to the scenic Val d'Orcia village of Pienza for a lunch of regional Tuscan specialties at a quaint family owned osteria, before spending free time exploring the UNESCO designated center of Pienza, offering sweeping views over the Val d'Orcia landscape. The afternoon will lead you to former 16th century noble residence turned dreamy, five-star Crete Senesi stay, Villa Armena, for check-in and a free evening at your leisure.
Stay: Villa Armena
Meals: Breakfast, Lunch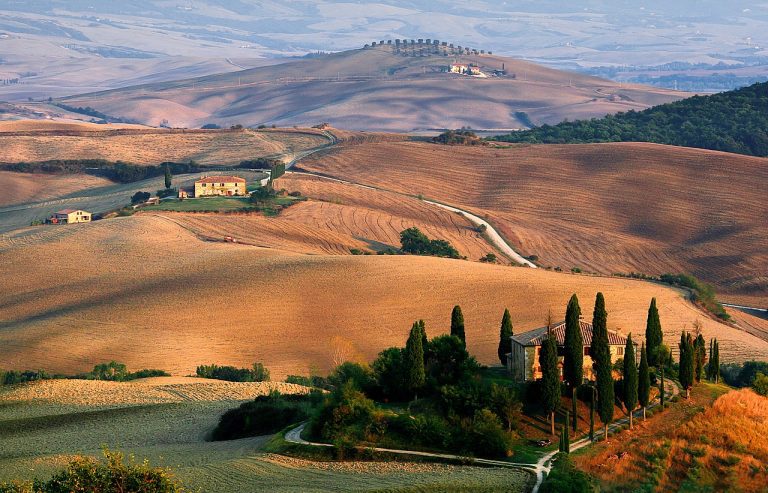 Spend the day experiencing the sweeping landscapes and cultural heritage of the Crete Senesi before sipping the finest vintages of Montalcino wine country. Led by the insights of your CB Regional Ambassador, discover the 14th century Abbey of Monte Oliveto Maggiore, featuring original frescoes from the 15th century and an intriguing herb pharmacy, while learning about its working farm that produces boutique wines and olive oil. Learn about regional cheesemaking traditions while visiting an artisan cheese farm which will culminate with a special lunch of the creamery's hand crafted Tuscan cheeses and local salumi specialties. Continue your exploration of the Crete Senesi with a scenic chauffeured drive through its iconic landscape of cypress lined country roads and golden hills, before visiting one of the region's loveliest fortified villages. This afternoon you will arrive to an acclaimed wine estate known for their exquisite vintages and biodynamic winemaking practices, for a private walk through the vineyards and exclusive cellar visit followed by a multi-flight tasting of the producer's signature wines, including a vertical of three Brunello di Montalcino vintages. Tonight enjoy a gastronomic dinner celebrating the Tuscan terroir and artfully interpreted with contemporary culinary vision at an acclaimed Michelin-starred restaurant.*

*Please note this exclusive dining experience is subject to availability at time of booking.
Stay: Villa Armena
Meals: Breakfast, Light Lunch, Dinner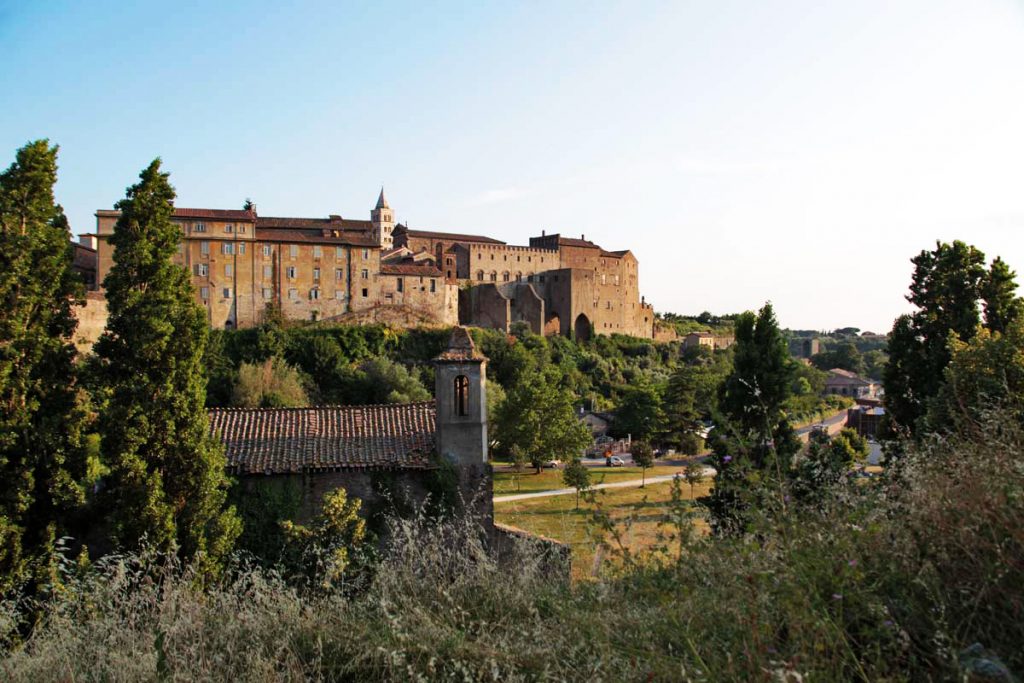 Set off from the Crete Senesi as you travel by chauffeur to the majestic Umbrian hilltop town of Orvieto. Led by your CB Regional Ambassador depart on a guided exploration of Orvieto's medieval center treasured for its characteristic vicoli (passageways) and vestiges from the city's Etruscan and Roman heritage. Along the way experience the glorious 13th century Doumo di Orvieto, renowned for its exquisite Gothic and Romanesque architecture and stunning facade festooned with vibrant mosaics. Enjoy lunch at a quaint eatery in Orvieto's historic heart, before continuing onward to Lazio's Viterbo province. Arrive to one of Italy's rarest curiosities, the 16th Sacro Bosco di Bomarzo. A compelling place rooted in the legendary true story of a grieving Prince, take time to experience its sprawling Italianate gardens of shaded woodlands and mysterious, haphazardly placed Mannerist statues writhing with grotesque grandeur. Spend the afternoon discovering the off the beaten path treasure of Viterbo, a glorious hilltop town dating back to the ancient Etruscans and the former 13th century seat of the Roman Papacy. Venture onward to Rome, the Eternal City, where you will arrive to your chic, five-star stay, DOM Hotel Roma.
Stay: DOM Hotel Roma
Meals: Breakfast, Lunch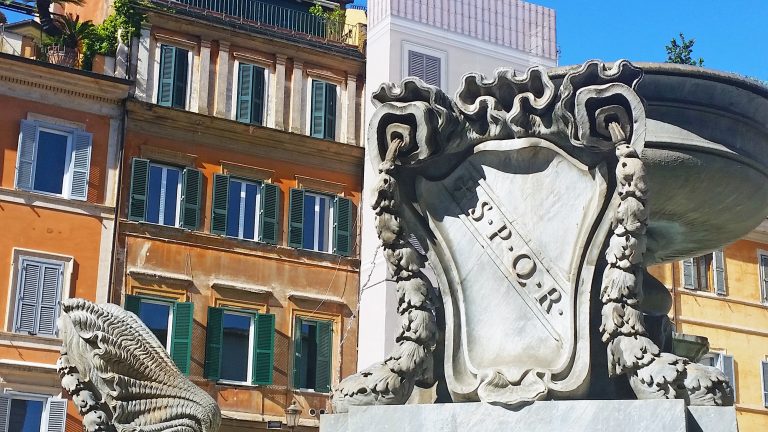 Today enjoy discovering the ancient district of Trastevere, located across the Tiber River, with the help of your CB Regional Ambassador. Visit the exquisite 16th century Renaissance architectural showpiece, Villa Farnesina, where you will be enthralled by its series of priceless frescoes masterfully painted by the likes of Raphael, Giulio Romano, and Sebastiano del Piombo. Appreciate the uniquely local atmosphere of Trastevere, as you meander along the district's picturesque medieval streets and delve into the ancient history and bohemian sensibility of this hidden treasure neighborhood that has retained its distinctly vibrant character through the ages. Enjoy a lunch of regional fare at a typical Roman trattoria renowned for its quaint ambiance and authentic recipes lovingly prepared using local, seasonal ingredients. Spend the rest of the day free to relax, shop and continue discovering the beauty of Rome at your leisure.
Stay: DOM Hotel Roma
Meals: Breakfast, Lunch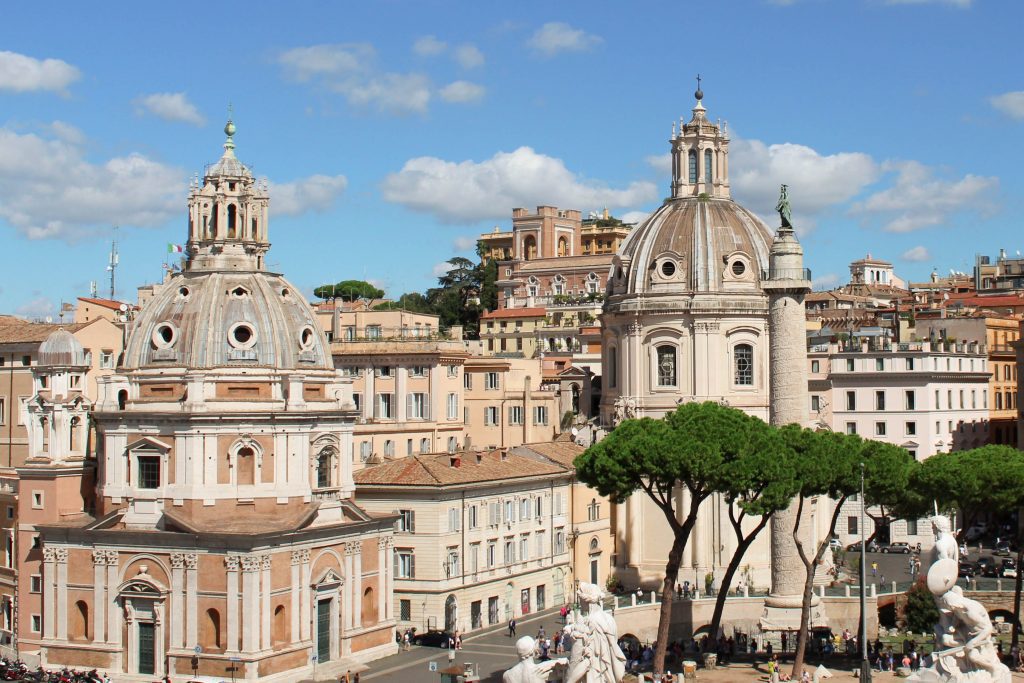 Today you will be introduced to the illustrious Right Bank vineyards surrounding Saint-Émilion. Set off on an exclusive visit of one of the region's five, coveted Premier Grand Crus chateaux, where you'll privately tour the estate's esteemed cellars. Be welcomed at an acclaimed Michelin-starred restaurant for a gourmet lunch of creative French cuisine paired with Grand Crus and Premier Grand Crus vintages. Your afternoon will be punctuated with a winemaker led visit and private tasting at a prestigious boutique estate, before traveling to the village of Libourne for free time to peruse the lovely boutiques and sidewalk cafes of its charming centre-ville.
The price of this Crafted Encounter begins at $15,000/per person*, based on double occupancy and a travel party of two.
Groups of four or more are eligible for our small group preferred pricing, and will enjoy 25% off the total trip price.
*The price of your Crafted Encounter will be determined by your travel party size and requested dates. This Encounter is also available for solo travelers at an additional cost.
A seamless travel experience from arrival to departure
Firsthand local knowledge & insights by our expert team
24/7 support during your Encounter
Chauffeured, private transportation for touring & transfers
Private touring with our professionally licensed & English speaking Regional Ambassadors
Stays at five & four-star boutique luxury accommodations
Engaging activities led by our family of cultural experts
Signature experiences with insider access
All tickets/entrance fees associated with touring
Organized dining experiences celebrating regional cuisine
Traveler Welcome Package
Taxes & base gratuities
International or regional airfare
Airport taxes and charges, airport parking or excess baggage charges
Expenses for activities/excursions not included or identified in the Encounter itinerary
Transportation expenses incurred during free time
A-la-carte food orders, alcoholic beverages or wines outside of pre-arranged menus during organized meals
Any meals or beverages during free time
Personal expenditures and personal spending money
Hotel incidentals including room service, laundry services and hotel bar tabs
Hotel room upgrade requests and/or fees/supplements incurred from any room changes
Travel insurance including health, accidents, lost baggage and trip cancellation
Passport and Visa expenses
All other items that are not mentioned or included in your Encounter itinerary
Once you submit your Booking Request, our team will get to work confirming whether your preferred travel dates are available. Within 72 hours of receiving your Booking Request, we will provide you with a quoted trip price for your preferred dates and travel party size, along with booking instructions that will include steps on how to submit your required trip deposit.
Why is my quoted trip price different than the published starting price per person?
While our Crafted Encounters are pre-designed and ready to book travel experiences, there are important factors that may impact the quoted trip price, namely hotel availability, number of travelers in your party, and whether you are requesting to travel during high or low season in a specific region or during a national holiday/special event.
What happens if my requested travel dates are not available?
Should your requested travel dates not be available, or if they happen to encompass a national holiday or special event that will significantly impact your quoted trip price, we will certainly let you know and work with you to identify alternate travel dates.
This Crafted Encounter includes a chauffeured private transfer from Rome Fiumicino Airport or Rome Termini Train Station upon arrival, and a chauffeured private transfer to Rome Fiumicino Airport or Rome Termini Train Station for departure.
Private transfers to and from alternate locations not included as part of this Crafted Encounter, such as a residence, hotel, car rental office, etc., can be requested at an additional cost.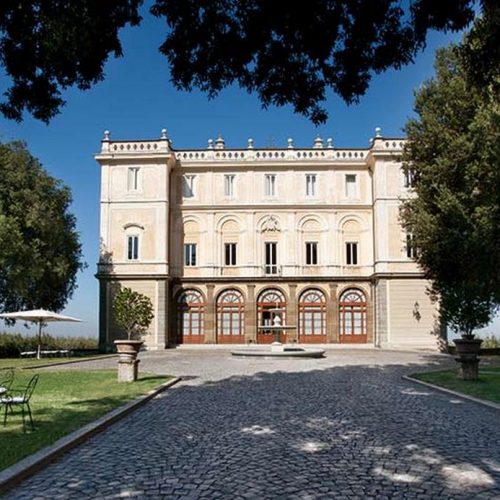 Park Hotel Villa Grazioli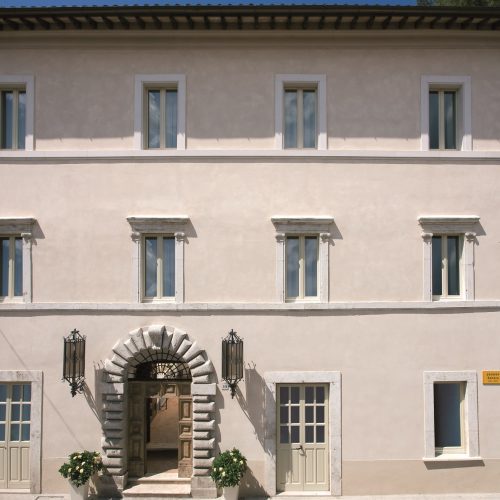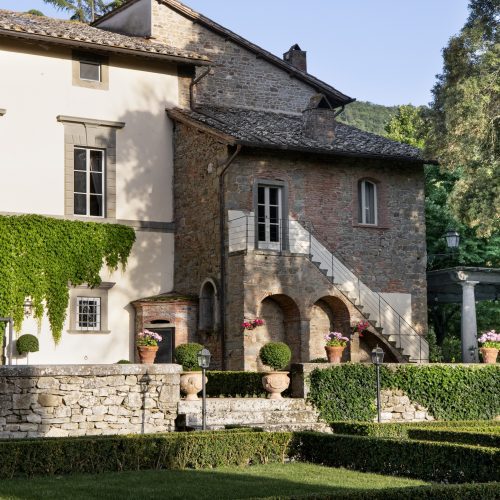 "A magnificent trip, so well organized and personalized to our wants and needs. It was one of the best we have ever taken. We first thought the cost was high, but must say the trip was well worth it. Staying in 4 and 5 star hotels is the only way to travel in Italy. Our chaffeurs and guides were courteous and knowledgeable and always on time. The Culture Guide booklet was so helpful and full of so much additional information. This is just one example of the high quality of service you get with CountryBred. We recommend CountryBred without hesitation."

"We planned our 4th trip to Europe with CountryBred to celebrate family birthdays. We took pieces of different Italian itineraries to create a wonderful trip - from Tuscany to Rome to Castelli Romani to the Amalfi Coast. Each lodging experience was incredible. Our drivers became our friends and were excellent; they weren't just drivers. They were ambassadors. Working with their specialists before , during and after our trip makes us want to plan our next adventure with CountryBred today."


"Beautifully planned! The attention to details allowed us to enjoy the itinerary without worrying about anything. "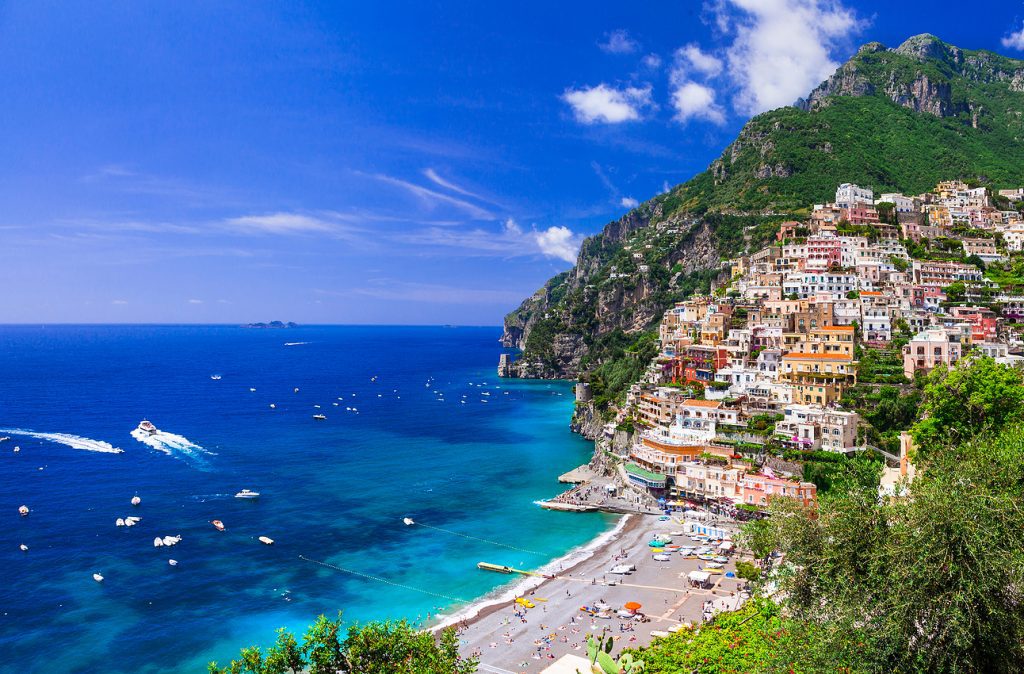 Chartered Amalfi Coast By Sea
Let the siren song of the Amalfi Coast lull you into the sweetest of dreams as you set sail for an exclusive voyage along the Costiera aboard your luxurious private yacht.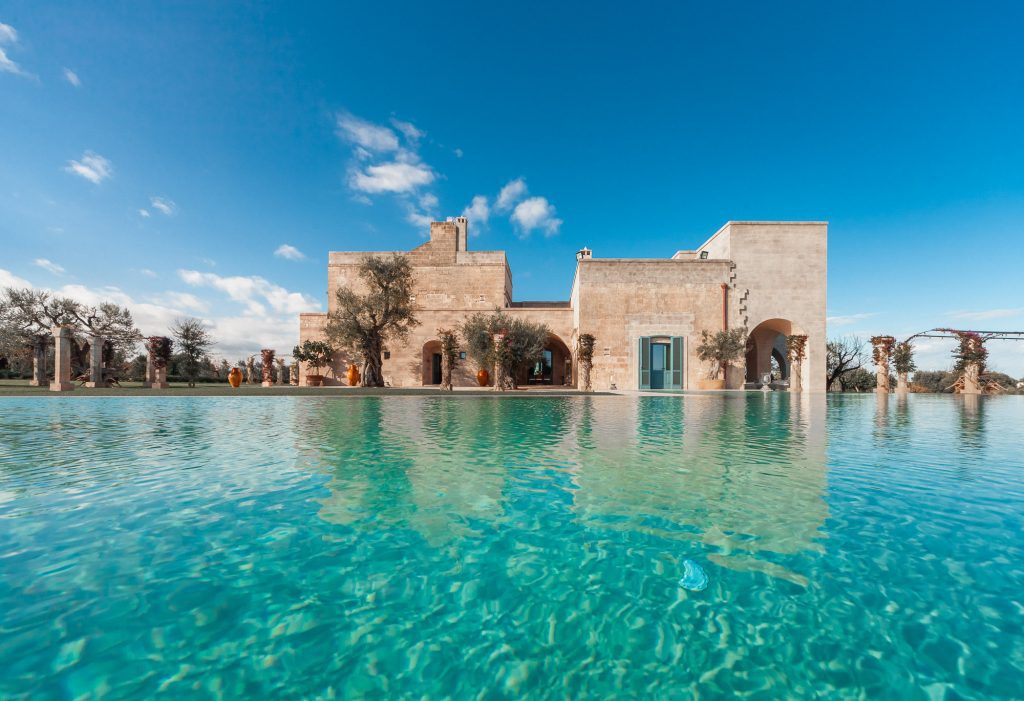 CountryHouse Puglia Grande
Let the beauty of Puglia's Adriatic splendors and Baroque wonders lull you into a state of sublime bliss while enjoying the exclusive comforts of your private masseria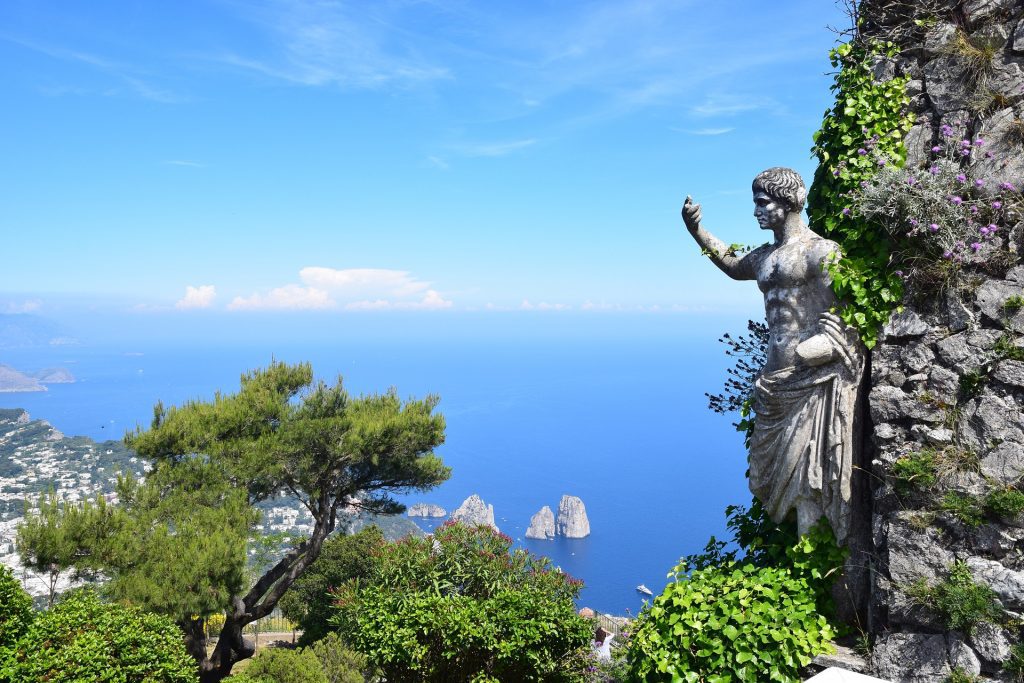 Let Italy's southern Mediterranean enthrall your senses as you experience the intoxicating allure of the Amalfi Coast, from the timeless wonders of the Sorrentine Peninsula to the enchanting treasures of the Phlegraean islands.
Interested in a 100% tailor-made experience?
Perfectly handcrafted just for you. Our Couture Encounters are artfully designed start to finish according to your cultural interests, preferred travel pace, and ideal length.