Where the shimmering current of the Limmat River meets tranquil Lake Zurich, boats and swans rest gently upon a glassy reflection of the Swiss Alps, as blue and white trams glide among the Baroque architecture decorating its banks. More commonly known as the fast-moving financial center of Europe, Zurich hides a uniquely alluring blend of medieval history, contemporary art and fine gastronomy, within its narrow cobblestone lanes and colorful guild houses, waiting to be uncovered by the curious traveler.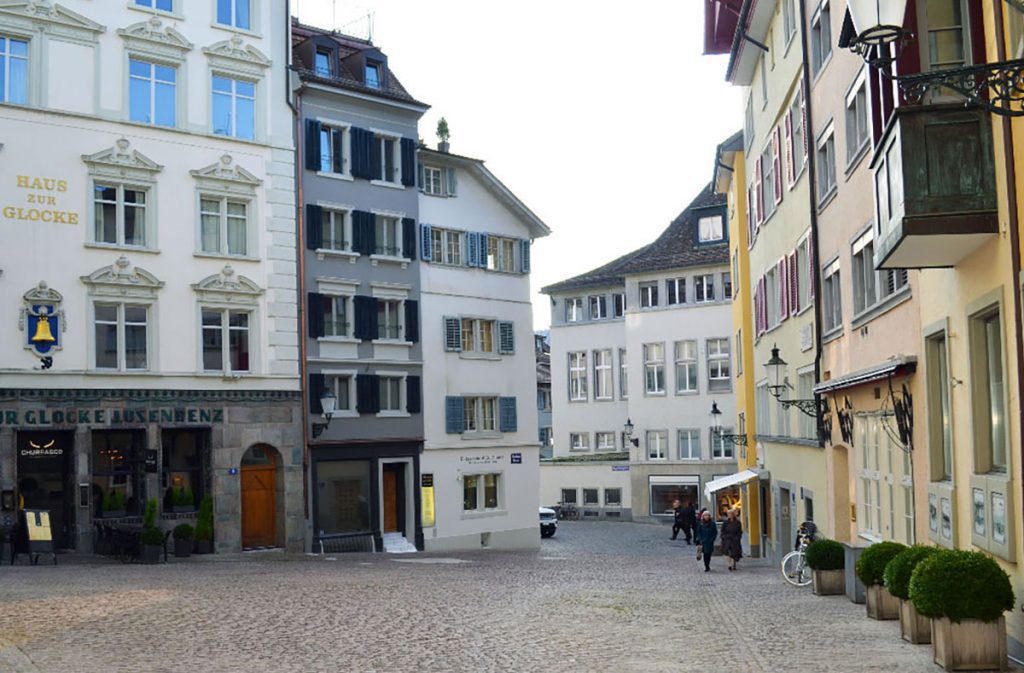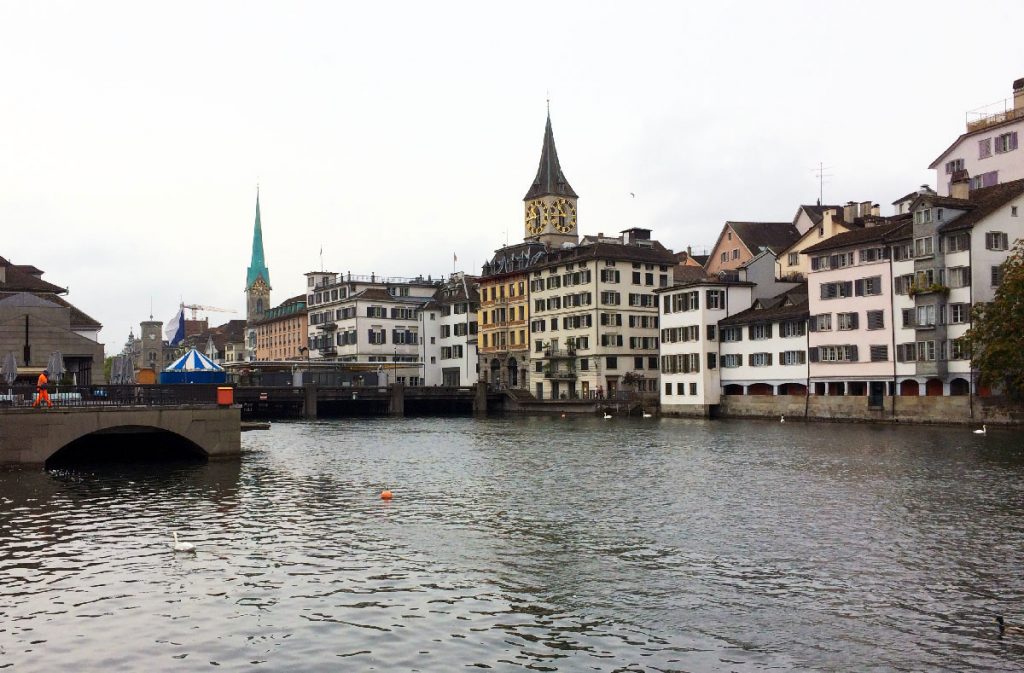 With a church tower whose color echoes the hues of the Limmat River itself, the Fraumunster Church punctuates the skyline of the city, a treasure of Romanesque and Gothic architecture, proudly serving as a distinguished landmark of the city. Concealing breathtaking masterpieces at its heart, five vibrant stained glass windows designed by artist Marc Chagall adorn the church's choir, almost inconspicuous when looking from the outside. The glorious windows are each a dynamic ode in orange, blue, green, and yellow, with Chagall celebrating classic Christian tales with a whimsical touch, allowing the stained glass panels to tell their stories through ever-changing visual effects created through the vibrant interaction of natural light and refraction.
Traveling deeper into the city's antique interior, the narrow medieval lane called Augustinergasse, offers perhaps the most exquisitely decorated facades to be admired in Zurich today, with its history as a onetime home for medieval artisans before becoming an architectural showcase for wealthy factory owners in the 17th century. As one strolls past intricately carved wooden bay windows and the colorfully painted facades of historic shops, cafés and restaurants, one can easily imagine a charming scene of artisans busy in their workshops against an ever changing backdrop of brilliantly decorated houses each more splendid than the next, competing for the attentions of the keen eyed observer.
Embellished with treasures of art and architecture spanning from the medieval to the early modern period, Zurich also proudly stands as the birthplace of Dadaism, and many other contemporary art movements. In 1916, at a small apricot-hued nightclub named Cabaret Voltaire, German artist Hugo Ball publicly read the Dada Manifesto, which marked the beginning of the avant-garde movement, rejecting what the artists believed to be a cultural and intellectual conformity of the period. Today, the nightclub continues to celebrate the spirit of Dadaism by hosting exhibitions, art events, and performances. At Löwenbräu-Areal, a red-brick industrial complex, vibrant expressions of contemporary art find their home in the former brewery. The art complex has attracted budding talents, art gallery owners, and museum curators to showcase their intriguing collections, as well as prominent architects Annette Gigon and Mike Guyer to add a futuristic sensibility to the space. A haven for imagination throughout the centuries, Zurich fosters its unparalleled creative scene by celebrating a historic legacy that also embraces brilliant expressions of modernity.