Northern Italian Capitals of Taste
Dazzle your discerning palate on this gastronomic getaway through Northern Italy's finest capitals of taste, from Piemonte and Emilia-Romagna to the Veneto and beyond. Appreciate the Slow Food roots and legendary wines of Barolo and Barbaresco before tasting your way through Torino. Experience Emilia-Romagna's fine food traditions from Parma to Bologna, and sip fine Amarone and Dorona vintages from the vineyards of Vapolicella to the Venetian Lagoon, before savoring the historic flavors of Lombardia in elegant Franciacorta and the Val Taleggio.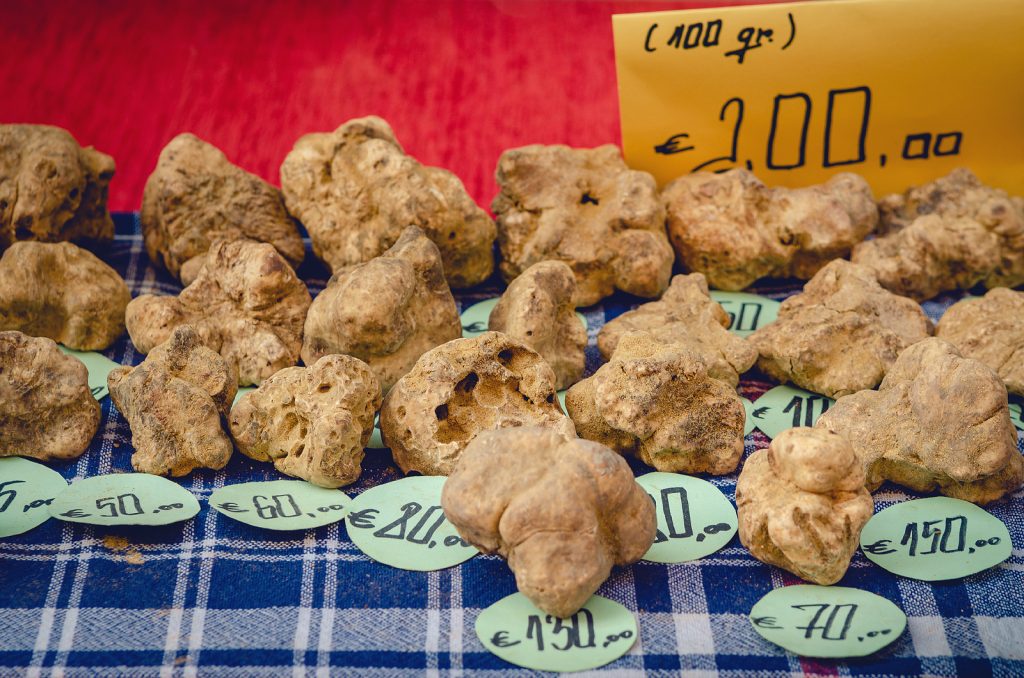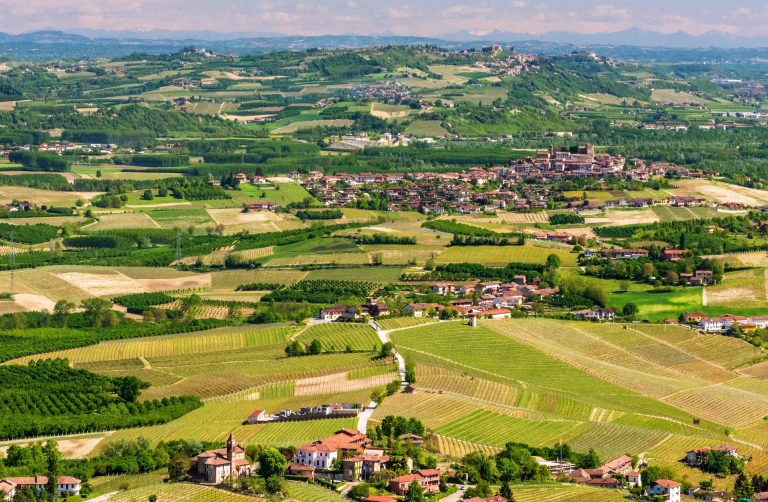 Your gastronomic voyage through Northern Italy's most legendary capitals of taste will commence with arrival to Milan Malpensa Airport or Milano Centrale Train Station. Your chauffeur will be waiting to welcome you before departing for the lush vineyards of Piemonte's Le Langhe. Arrive to your 19th century cascina turned plush Langhe wine country stay, four-star Relais Villa d'Amelia. Settle in to your sublime surroundings with a dinner celebrating the region's Slow Food roots and the Langhe's materia prima at your hotel's epicurean restaurant, DaMà.
Stay: Relais Villa d'Amelia
Meals: Dinner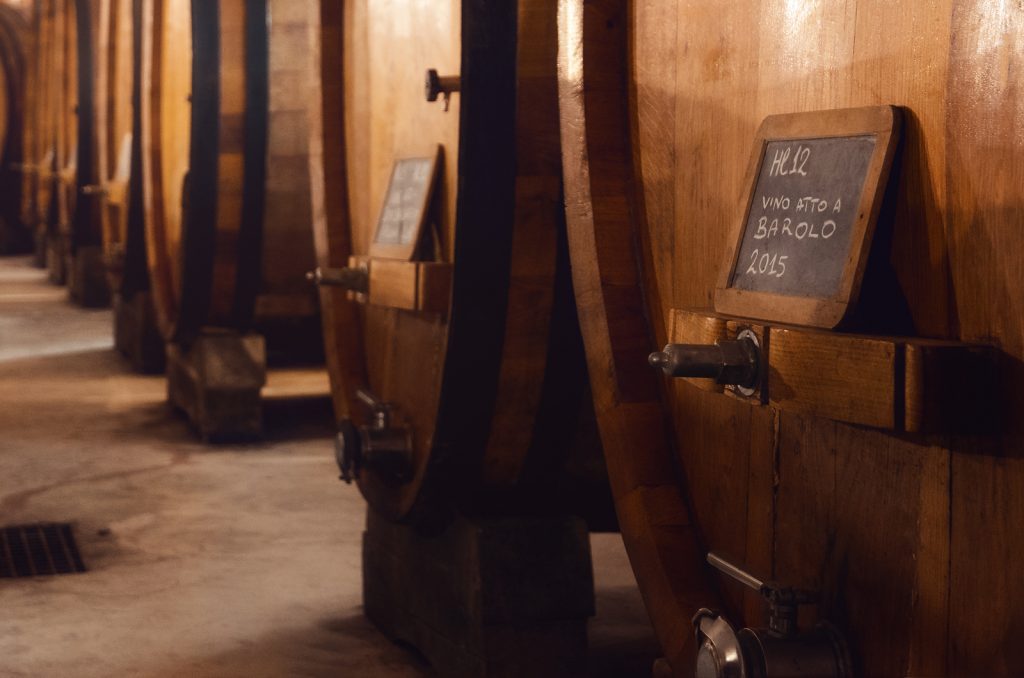 Spend today appreciating the iconic winemaking heritage of Barbaresco and Barolo, starting with a private visit of the estate vineyards and aging cellar of an acclaimed fourth generation family of winemakers, followed by a tasting flight of their stellar Barbaresco and Nebbiolo wines. Take time to meander through the charming hilltop center of Barbaresco before savoring a lunch of traditional Piemontese cuisine with contemporary Northern Italian flair at one of the area's most revered gastronomic restaurants. Your wine experience will continue at the vineyard estate of one of Piemonte's most legendary producers, with a private visit of the winery and its historic aging cellar, followed by a five-flight Cru tasting focused on single vineyard Barolo DOCG and Barbaresco DOCG vintages. Spend a free afternoon shopping for gourmet finds along Via Cavour in the sophisticated city of Alba
Stay: Relais Villa d'Amelia
Meals: Breakfast, Lunch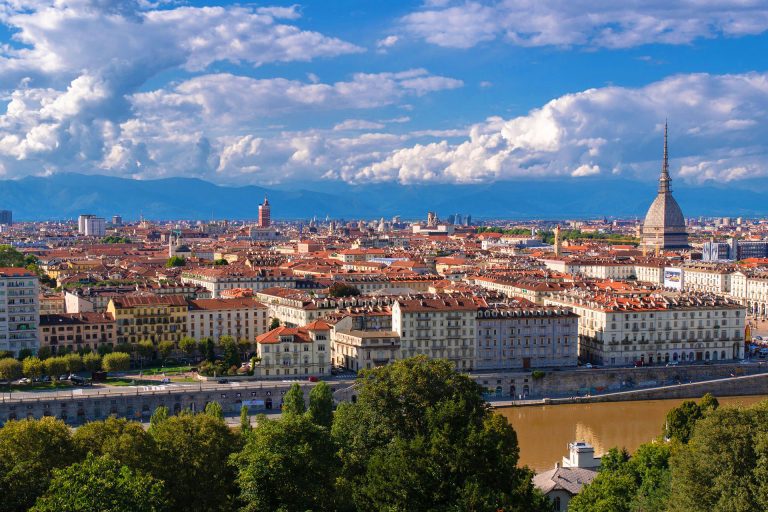 This morning an expert Trifulau will be your guide as you set off on a truffle hunting trek through the lush forests of the Alto Monferrato, while searching for the region's elusive local tuber. Exhilarated from your morning adventure, depart for the cosmopolitan heart of Torino, capital of the Piemonte region, stopping along the way to admire inspiring views of the entire city from a unique vantage point. Your tasteful trip to Torino will begin at the antique atelier of a Torinese chocolatier for a taste of the city's fabled cocoa tradition, before visiting an intriguing museum dedicated to an Italian espresso empire. A lunch of traditional Torinese cuisine at a fabled 19th century osteria is yours to enjoy, followed by a visit to a historic cafe to sip the city's signature bicerin coffee drink. A guided exploration of Torino's classical center will have you visiting the 16th century Royal Palace of Turin of the House of Savoy, and stunning civic spaces like Piazza San Carlo. Your afternoon will culminate with a special tasting of artisanal Piemontese cheeses like Robiola and Castelmagno at a historic cheese monger of the city, before doing as the locals do with an authentic aperitivo of Vermouth at one of Torino's most storied caffes. .
Stay: Relais Villa d'Amelia
Meals: Breakfast, Lunch, Light Dinner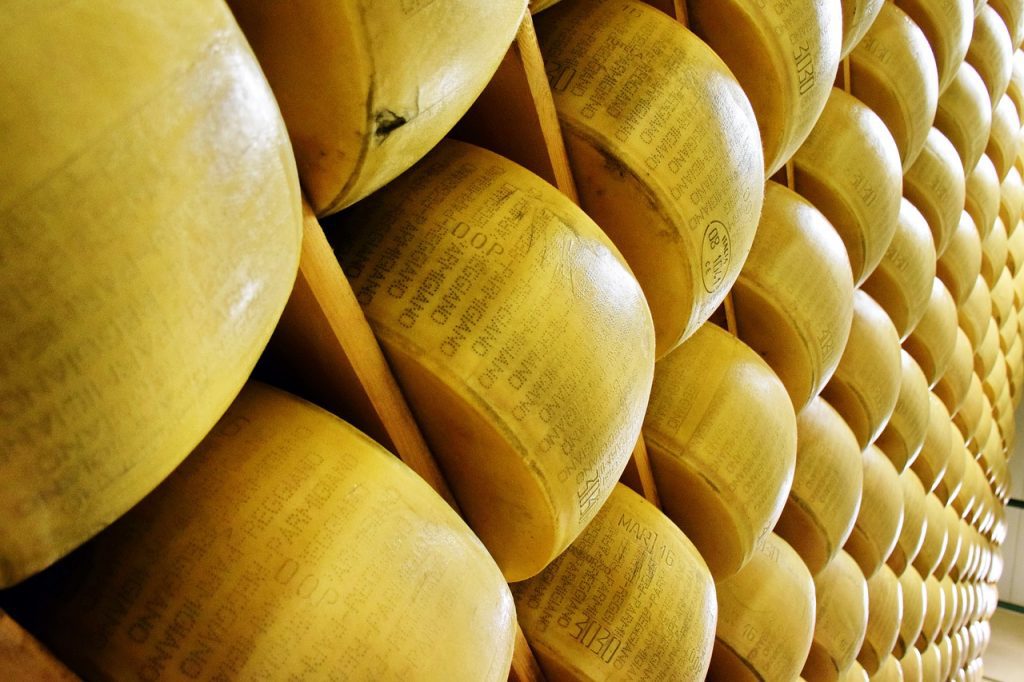 From Piemonte your culinary voyage will continue onward to Emilia-Romagna for a special visit to a boutique cheese farm to learn how authentic Parmigiano Reggiano is crafted and witness the "birth" of this king of cheeses, before tasting the farm's aged varieties. Travel to Parma for a lunch of exceptional Parmigiano cuisine at one of the city's most highly regarded trattorie, favored by the discerning locals, before experiencing the magnificently frescoed dome of the Cathedral of Parma,"The Assumption of the Virgin", by Late Renaissance painter Antonio da Correggio. Travel to a renowned acetaia for a tasting of the family's precious, small batch Aceto Balsamico di Modena crafted in the traditional method, followed by arrival to Modena for a guided exploration of its UNESCO World Heritage center. The perfect finish to your culinary day will be a tasting flight of exquisitely effervescent Lambrusco wines paired with the region's iconic Prosciutto di Parma, before traveling to the region's epicenter of taste traditions, Bologna, for check-in to your elegant five-star stay, Grand Hotel Majestic gia' Baglioni, in the city's historic heart.

Stay: Grand Hotel Majestic gia' Baglioni
Meals: Breakfast, Lunch, Light Dinner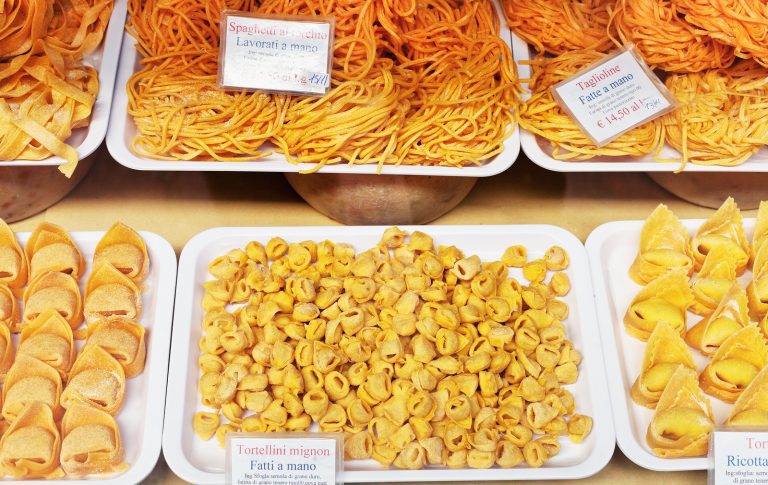 Today your CB Regional Ambassador will help you explore Bologna's antique center, starting with the medieval Quadrilatero district with its historic Mercato di Mezzo, the gastronomic heart of Bologna. Be welcomed at a storied salumeria for a tasting of local charcuterie specialties, such as Mortadella, while learning about Bologna's heritage cured creations. Visit the illustrious 17th century Anatomical Theatre of the Archiginnasio, and savor a lunch of classic Bolognese fare celebrating regional products, before enjoying the rest of the day free to continue exploring the historic center of Bologna independently.
Stay: Grand Hotel Majestic gia' Baglioni
Meals: Breakfast, Lunch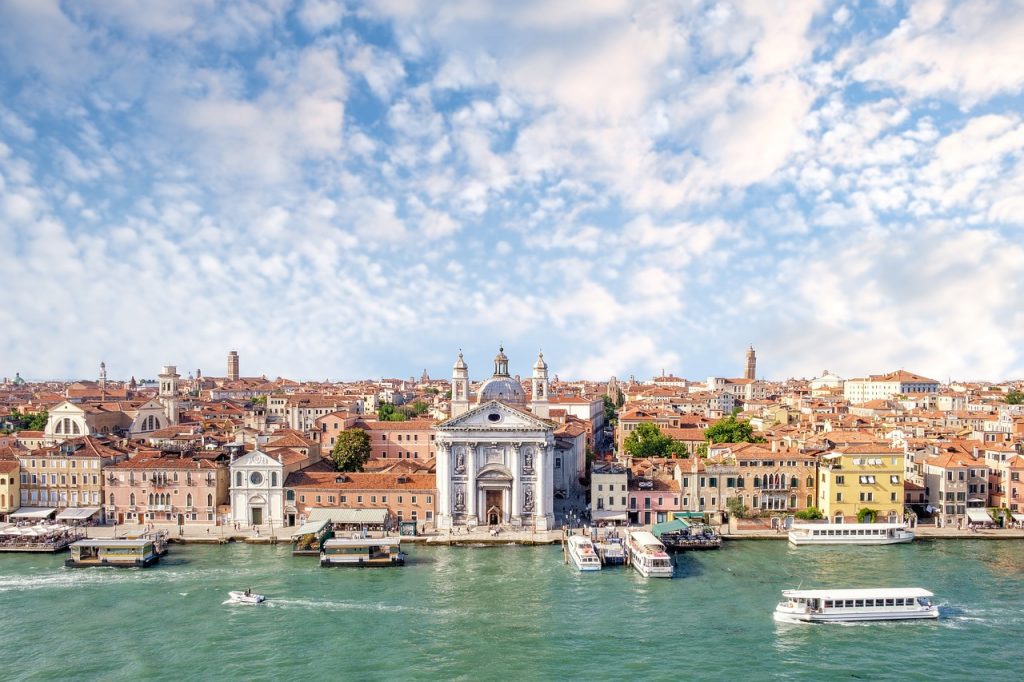 Set off from your Bologna stay for Venice, La Serenissima, where your awaiting private boat will transport you to your chic, four-star stay with style, Hotel Heureka, in the sestiere of Cannaregio. Be welcomed by your CB Regional Ambassador who will introduce you to quintessentially local and untouched by time Cannaregio, including a rare glimpse at a work by Venetian painter, Tintoretto, before perusing the Adriatic bounty of the lagoon at a unique open air market. The day will continue with a food and wine tasting tour through some of city's most historic bacari (wine taverns), to savor the local gastronomic specialty, cicchetti. Spend a guided afternoon exploring the iconic Piazza San Marco with its Campanile di San Marco (St. Mark's Belltower), and illustrious Doge's Palace.
Stay: Hotel Heureka
Meals: Breakfast, Lunch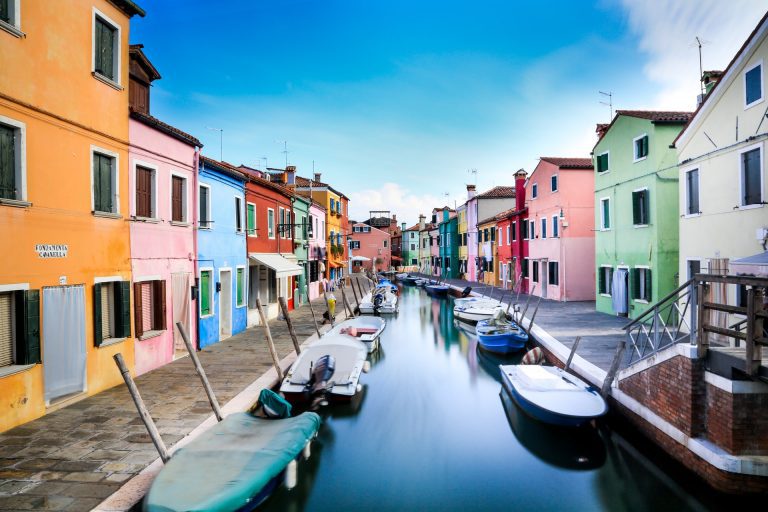 Today embark by private boat to experience the heritage flavors and fabled islands of the Venetian Lagoon. Arrive to the historic fishing enclave of Burano, famed for its lace making traditions and brightly colored dwellings, for free time to explore its vibrant canals independently. Your private boat will next transport you to an esteemed wine estate safeguarding the lagoon's historic wine making traditions, while cultivating its most ancient grape varietal. Be seated for an elegant Michelin-starred lunch of seasonal, locally cultivated ingredients paired with signature vintages at the wine estate's acclaimed gastronomic restaurant.* Following your return from the lagoon, admire the romance and majesty of Venice during a scenic private boat exploration through the city's most famed canals.

*Please note this exclusive dining experience is subject to availability at time of booking.
Stay: Hotel Heureka
Meals: Breakfast, Lunch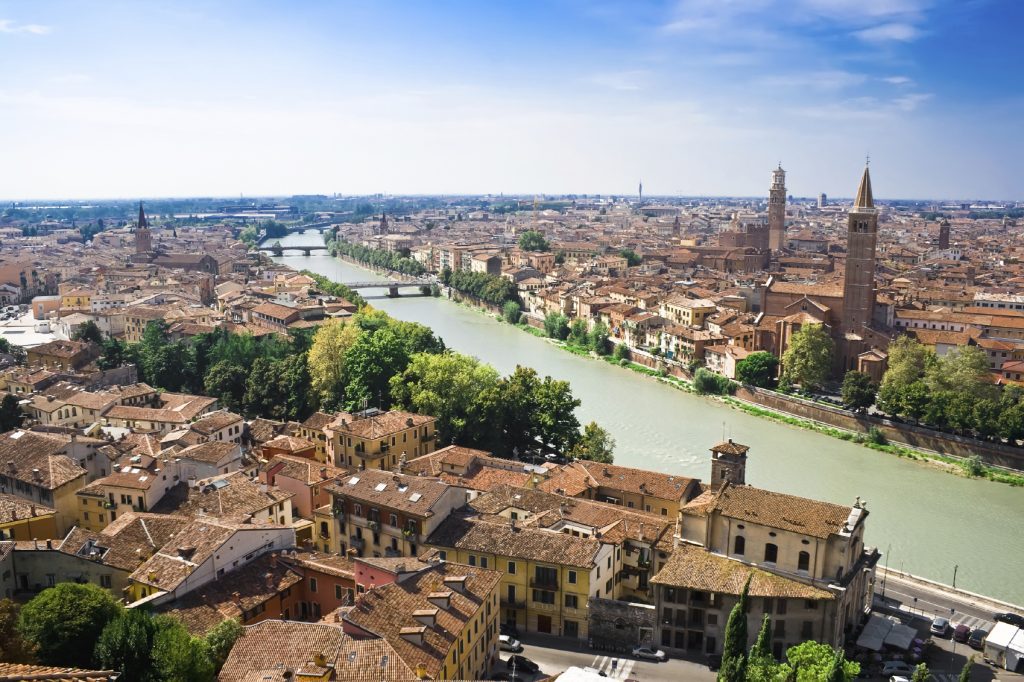 From your Venetian hideaway you will continue to the verdant hillsides surrounding the medieval walled city of Soave. Be introduced to a true taste of the appellation during a private winery visit with tasting of premium Soave wines at an esteemed producer that has been crafting fine vintages since the 19th century. Your chauffeur will next transport you to the fairytale city of Verona for a guided visit of the splendid 16th century Giardino Giusti led by your CB Regional Ambassador. Enjoy a special aperitivo hosted within an ancient Roman cellar followed by lunch of regional Veronese cuisine at an epicurean restaurant in the center of town. Spend the afternoon exploring the historic charms of Verona like the ancient Piazza delle Erbe and Arena di Verona at your leisure, before arriving to your resplendent, five-star wine country retreat, Villa Cordevigo Wine Relais.
Stay: Villa Cordevigo Wine Relais
Meals: Breakfast, Lunch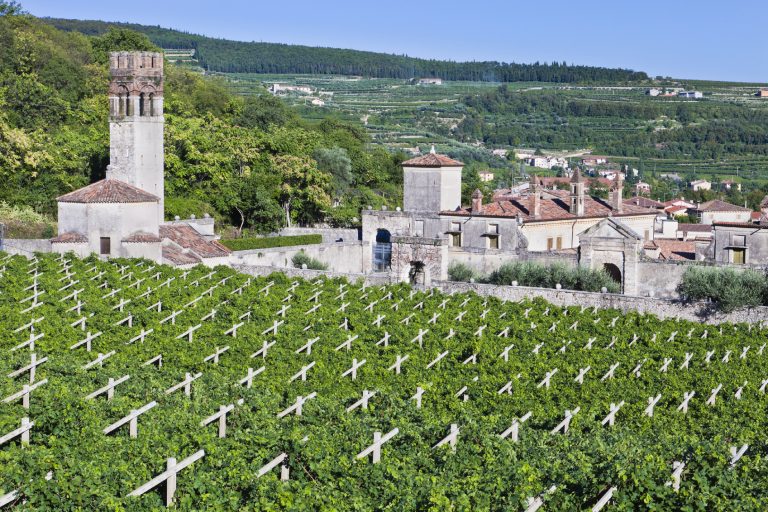 Discover Veneto's illustrious Valpolicella Wine Country while savoring its finest flavors. Be welcomed at the historic villa estate of a storied winemaking family for a special tasting flight of the winery's award winning Amarone and Recioto vintages, accompanied by regional products. From the vineyards to the kitchen, you will next be welcomed in the picturesque country home of a local culinary expert for a private, hands-on cooking class of typical Venetian cuisine, culminating with lunch of your delectable creations.
Stay: Villa Cordevigo Wine Relais
Meals: Breakfast, Lunch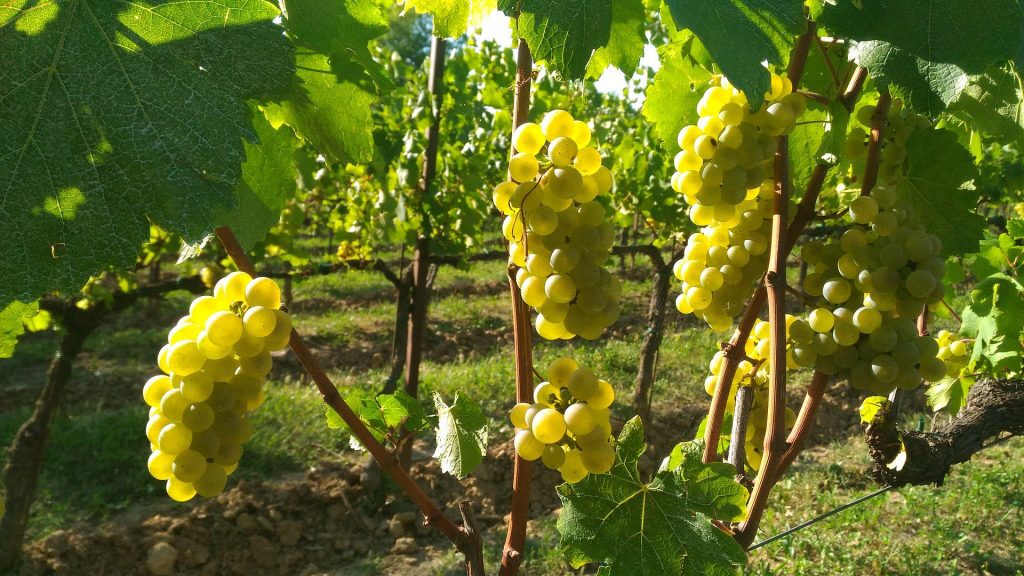 From the vines of Bardolino you will continue your taste filled journey in Lombardia's sparkling Franciacorta Wine Country. Appreciate a private winery visit and signature tasting flight of acclaimed Franciacorta DOCG vintages at the noble estate of a historic winemaking family, before traveling to one of Northern Italy's most illustrious restaurants
for an exquisite, multi-course lunch at a celebrated Three Michelin Star restaurant.* In the afternoon you'll be chauffeured to the verdant vineyard landscapes of Erbusco
for arrival to your elegant, five-star wine country escape, L'Albereta, nestled in the heart of Franciacorta Wine Country.

*Please note this exclusive dining experience is subject to availability at time of booking.
Stay: L'Albereta
Meals: Breakfast, Lunch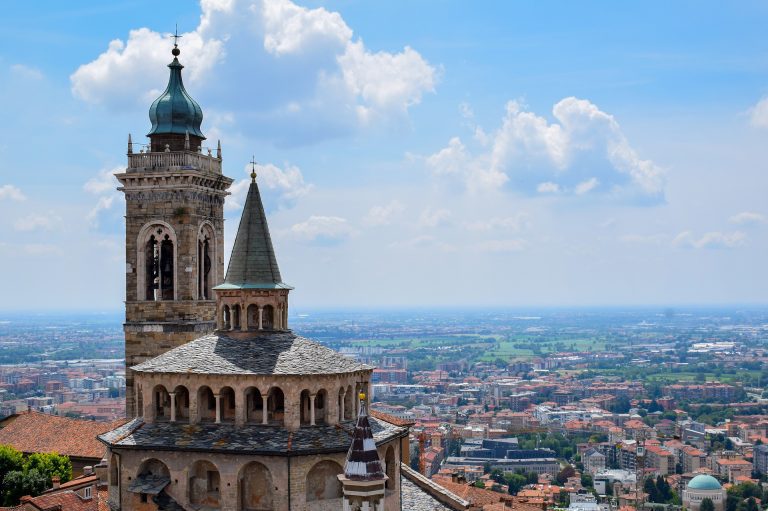 This morning delve into the heritage cheesemaking traditions of the Val Taleggio cheese route with the help of your CB Regional Ambassador. Delight in a private visit of an artisan cheese farm to learn about their process for crafting delectable dairy creations, before savoring a special tasting of farm fresh cheeses. Next, experience one of the Val Taleggio's most beautiful medieval hamlets, known for their well preserved stone houses, for a rustic lunch featuring Val Taleggio's distinctive cheeses like Taleggio and Strachitunt at gourmet tavern. Spend the afternoon appreciating the classical sophistication of Bergamo, located at the foot of the Alps, with a guided exploration of "La Città Alta", the city's hilltop medieval neighborhood. Embark on scenic funicular ride for marvelous views overlooking Bergamo and the surrounding Colle di San Vigilio, before returning to La Citta Alta for a sweet repose at an antique pasticceria offering a contemporary take on classic pastry creations.
Stay: L'Albereta
Meals: Breakfast, Lunch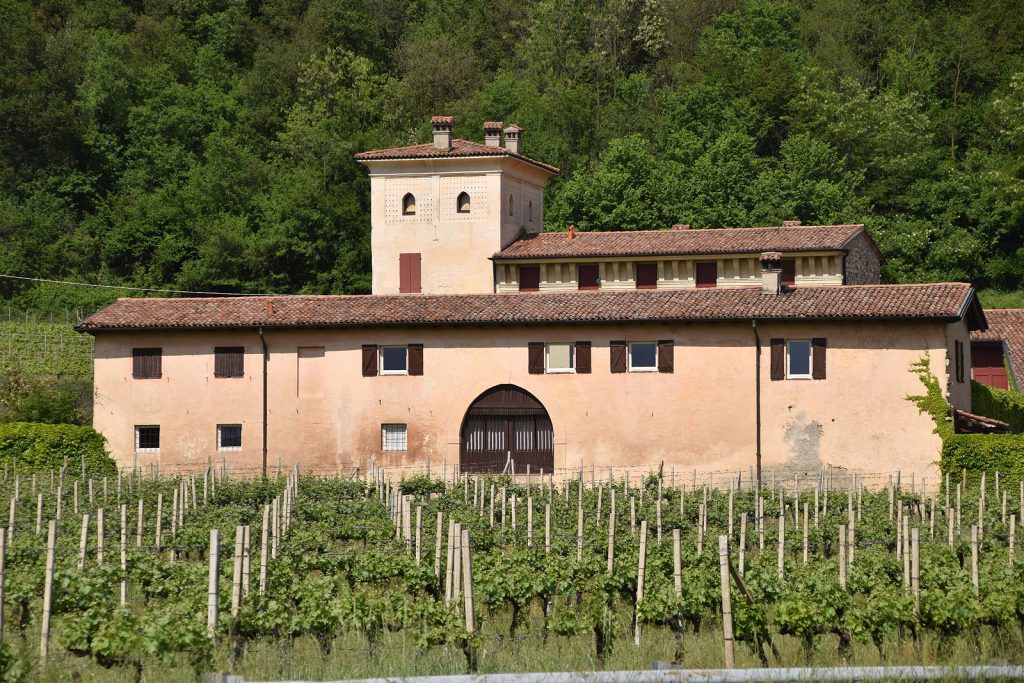 Bid Franciacorta wine country arrivederci as you are chauffeured to Milan Malpensa Airport or Milano Centrale Train Station for departure, and the end of your Encounter.
The price of this Crafted Encounter begins at $16,000/per person*, based on double occupancy and a travel party of two.
Groups of four or more are eligible for our small group preferred pricing, and will enjoy 25% off the total trip price.
*The price of your Crafted Encounter will be determined by your travel party size and requested dates.This Encounter is also available for solo travelers at an additional cost.
A seamless travel experience from arrival to departure
Firsthand local knowledge & insights by our expert team
24/7 support during your Encounter
Chauffeured, private transportation for touring & transfers
Private touring with our professionally licensed & English speaking Regional Ambassadors
Stays at five & four-star boutique luxury accommodations
Engaging activities led by our family of cultural experts
Signature experiences with insider access
All tickets/entrance fees associated with touring
Organized dining experiences celebrating regional cuisine
Traveler Welcome Package
Taxes & base gratuities
International or regional airfare
Airport taxes and charges, airport parking or excess baggage charges
Expenses for activities/excursions not included or identified in the Encounter itinerary
Transportation expenses incurred during free time
A-la-carte food orders, alcoholic beverages or wines outside of pre-arranged menus during organized meals
Any meals or beverages during free time
Personal expenditures and personal spending money
Hotel incidentals including room service, laundry services and hotel bar tabs
Hotel room upgrade requests and/or fees/supplements incurred from any room changes
Travel insurance including health, accidents, lost baggage and trip cancellation
Passport and Visa expenses
All other items that are not mentioned or included in your Encounter itinerary
Once you submit your Booking Request, our team will get to work confirming whether your preferred travel dates are available. Within 72 hours of receiving your Booking Request, we will provide you with a quoted trip price for your preferred dates and travel party size, along with booking instructions that will include steps on how to submit your required trip deposit.
Why is my quoted trip price different than the published starting price per person?
While our Crafted Encounters are pre-designed and ready to book travel experiences, there are important factors that may impact the quoted trip price, namely hotel availability, number of travelers in your party, and whether you are requesting to travel during high or low season in a specific region or during a national holiday/special event.
What happens if my requested travel dates are not available?
Should your requested travel dates not be available, or if they happen to encompass a national holiday or special event that will significantly impact your quoted trip price, we will certainly let you know and work with you to identify alternate travel dates.
This Crafted Encounter includes a chauffeured private transfer from Milan Malpensa Airport or Milano Centrale Train Station upon arrival, and a chauffeured private transfer to Milan Malpensa Airport or Milano Centrale Train Station for departure.
Private transfers to and from alternate locations not included as part of this Crafted Encounter, such as a residence, hotel, car rental office, etc., can be requested at an additional cost.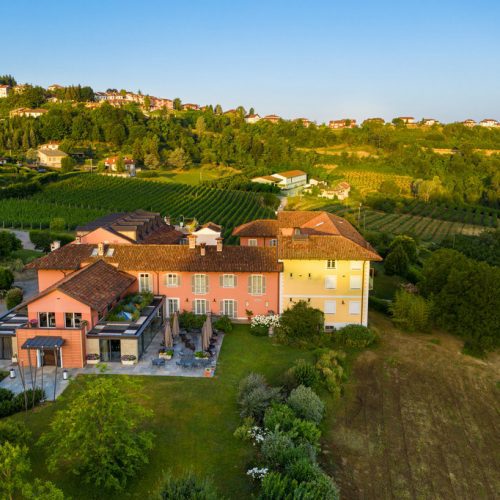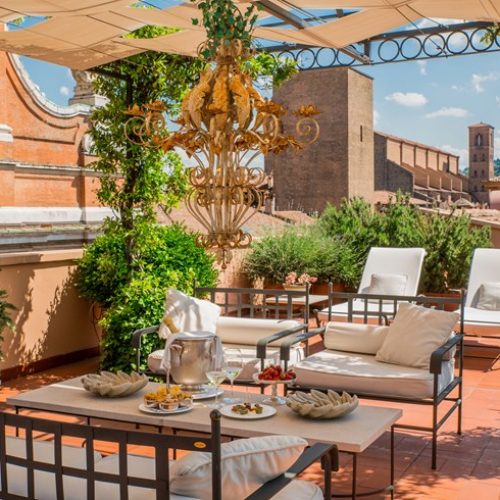 Grand Hotel Majestic gia' Baglioni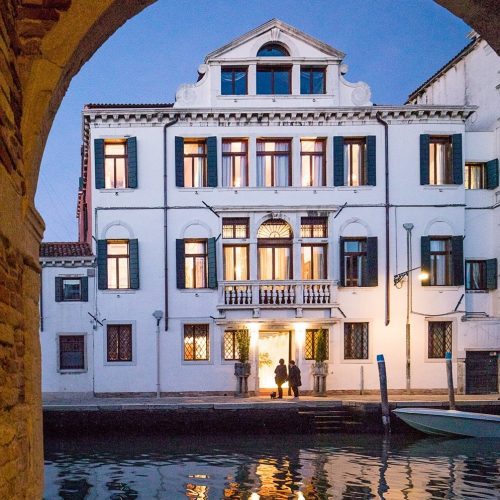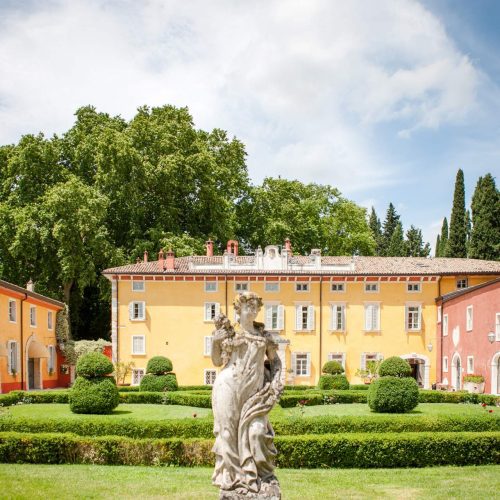 Villa Cordevigo Wine Relais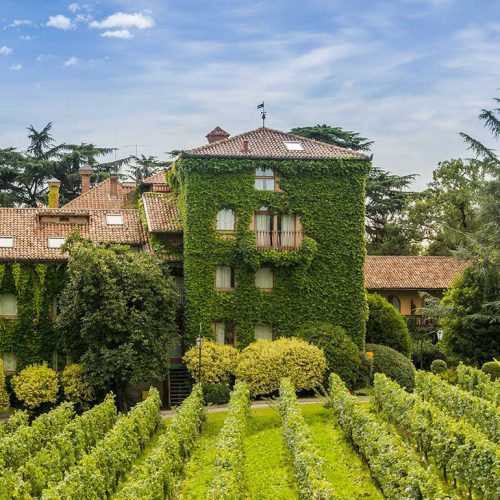 "I found CountryBred on line and at first was hesitant to use them since I was not familiar with the company. I was concerned since this would be a 50th wedding anniversary trip for me, my wife, our daughter and son in law and their two teen-age daughters. We asked CountryBred to design a trip for us to Italy to Milan, the Lakes (Maggiore, Como, Orta, and Garda), and to Venice. I was totally and completely pleased with every detail of the trip that CountryBred put together for us. The transportation furnished was very comfortable for the 6 of us and our luggage, and the van was always on time and the driver was friendly and professional. All guides were very knowledgeable and professional and friendly and had the ability to relate to our teenage granddaughters as well as to us older folk. The cities selected for us to stay at in the Lakes were the best selection in that they had sufficient activity in the area but were not in the busiest tourist section of the area. All hotels were excellent quality and extremely well located everywhere that we stayed. CountryBred's choice of restaurants were pre-arranged and the food and wine was really great. I gained 6 pounds in 9 days. I have already recommended them to several of my friends. They rate an A+++."



"Our visit to Costa Brava and Lake Como was truly memorable. CountryBred did a fantastic job of selecting wineries to visit in Priorat, Lombardia and Piemonte wine regions. Their selection of restaurants was amazing. We have never experienced such fine dining. Thank You!"




"My wife Sheri and I have traveled with many tour companies. CountryBred offers and experience second to none and we have used some very good tour companies."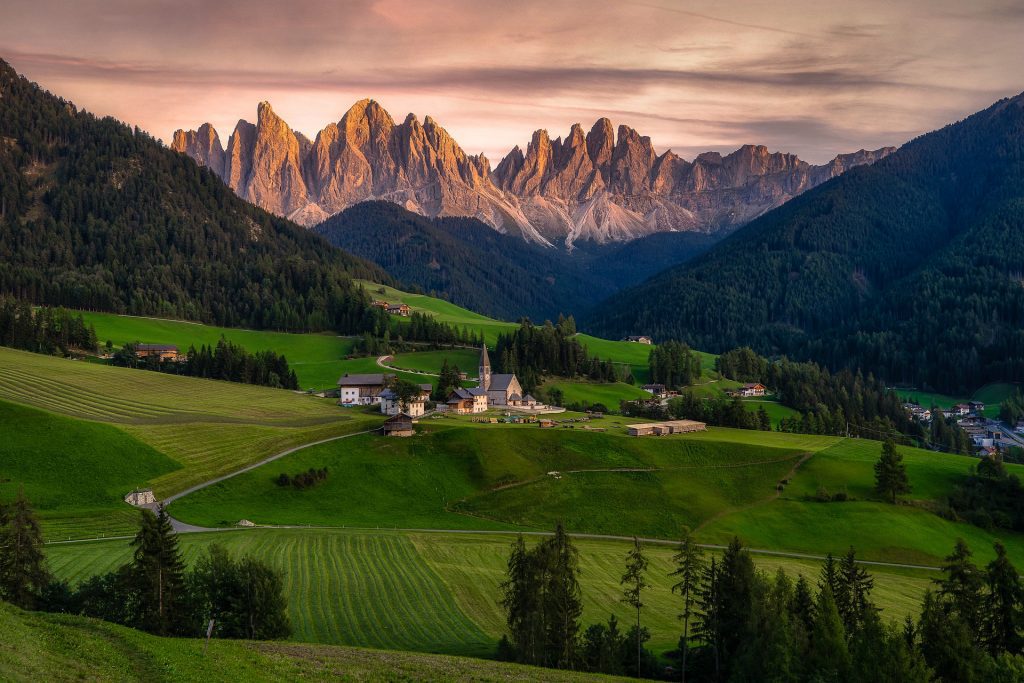 Dolomites Hike, Sip & Spa
Discover the alpine beauty and inspiring natural splendors of the Dolomites as you trek along serene mountain passes, wildflower meadows and emerald valleys from the Südtirol to Trentino.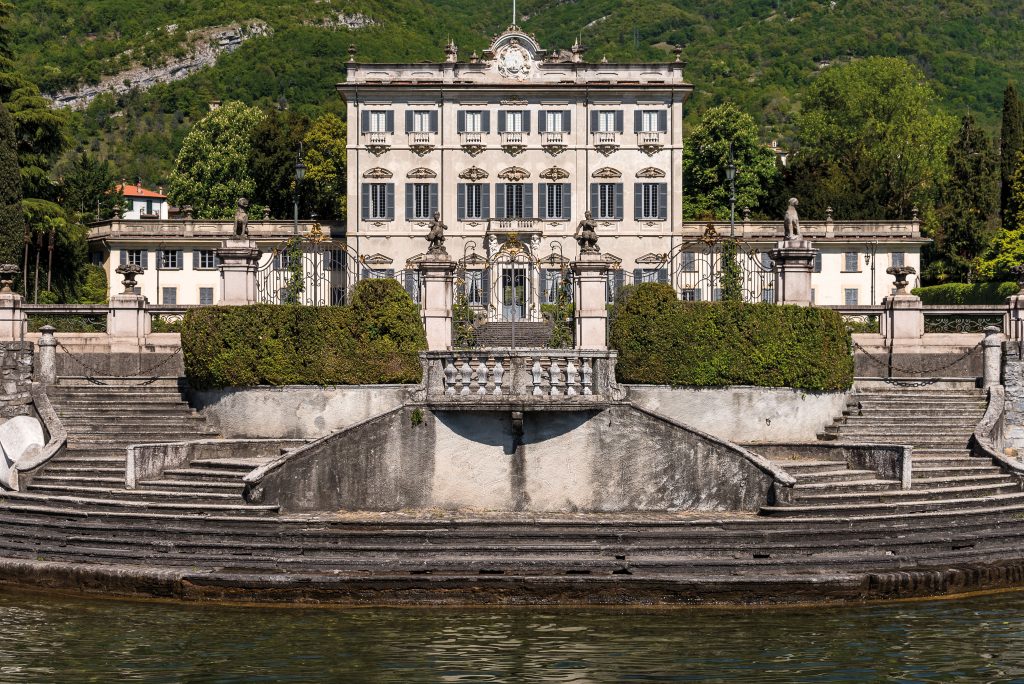 Relive the dazzling opulence of the Belle Époque as you fall in love with luminous Lake Como from your 16th century aristocratic residence turned exquisitely private lakefront villa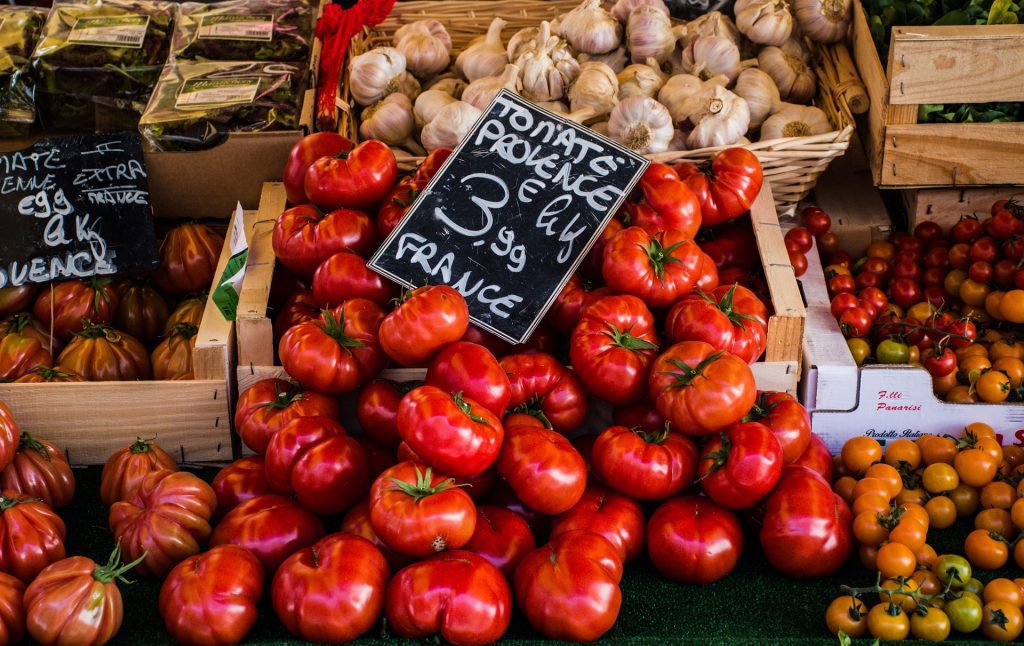 Journey to the iconic culinary capitals of France on this flavorsome feast for the senses, from Provence and Lyon to Paris and Bordeaux.
Interested in a 100% tailor-made experience?
Perfectly handcrafted just for you. Our Couture Encounters are artfully designed start to finish according to your cultural interests, preferred travel pace, and ideal length.