Find sheer bliss in the enchanting alpine landscapes of Zermatt as you explore the magical Swiss canton of Valais from the luxurious comfort of your spectacular private chalet with views onto the iconic Matterhorn. Serpentine through idyllic mountain passes by train and trek through meadows of wildflowers and glacier lakes, taste the rare wines of the high elevation AOC Valais and storybook vineyards of the AOC Chablais, and embark on a one of a kind forest walk alongside Switzerland's emblematic and much beloved Saint-Bernard, all while enjoying the top notch amenities of your stellar hideaway in the alps.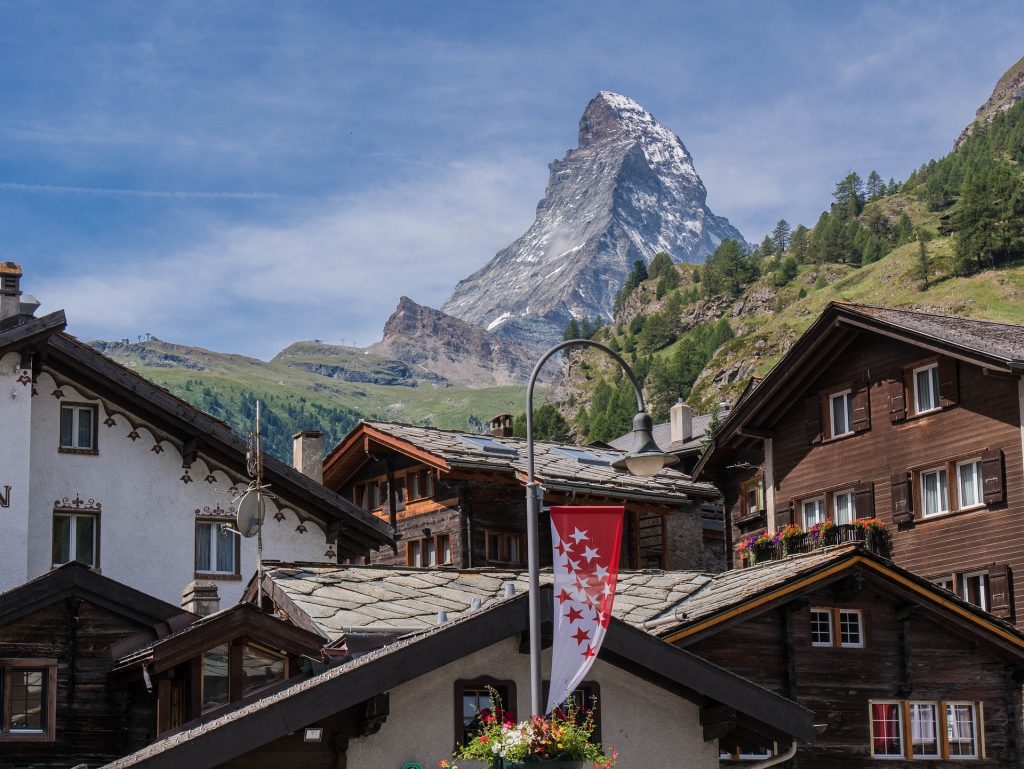 8 to 10 Guests / 5 Bedrooms / 5 Bathrooms
Marvel at iconic views of the Matterhorn while experiencing the pinnacle of luxury Swiss hospitality from your five-star private chalet perched high above the timeless village of Zermatt. Centrally located yet utterly secluded, the chalet places you just steps from the heart of the village, while offering the benefits of a lavish personal residence. Set over six floors, each with floor-to-ceiling windows, the chalet fuses traditional alpine charm with modern design and architecture. With an airy open-plan layout, the living areas have been extensively interior designed to include bespoke pieces of furniture and unique works of art, under floor heating and signature common spaces, including a spectacular living room lounge set beneath a glass roof, a library with cosy fireside seating, a seated dining room and open kitchen, and a balcony off of the lounge for fantastic views and additional outdoor space. The chalet boasts five individually designed bedroom suites, all offering deluxe double beds, seating and dressing areas, and spectacular panoramic views. All rooms have HD cinema TV's with digital surround sound and Bluetooth connection, in addition to remote controlled lighting, curtains and audio-visual, and balconies or terraces. The en-suite bathrooms are fully equipped with luxurious touches, such as showers with overhead rain-shower fittings, hand-showers, and body jets to refresh and rejuvenate. Exquisite additional amenities include a wellness spa with a dry Finnish or a wet Swedish sauna, a bio steam hammam, Jacuzzi whirlpool, menu of in-chalet spa treatments available from spa therapy experts, and a state-of-the-art TechnoGym®. A full service experience, complete with private gourmet chef, concierge and service staff ensures the ultimate alpine escape of a lifetime.
Arrive to Zurich Flughafen Airport or Milan Malpensa Airport and be welcomed by your CB Regional Ambassador before departing by chauffeur for dazzling alpine village of Zermatt. Following arrival, be introduced to your Swiss home away from home by the chalet staff, who will help you settle in for the day. Delight in free time to discover your sumptuous private residence and the charms of the village, before celebrating the start of your journey through Valais with a gourmet, multi-course dinner and wine pairing prepared by the chalet's professional in-house chef.

MEALS: Dinner
Awake to stunning alpine views and a blissful breakfast served in the comfort of your chalet, before being greeted by your CB Regional Ambassador. Set off for a scenic journey along the famed Gornergrat Bahn (Gornergrat Railway), Europe's highest open-air, cog railway for arrival to the summit of the Gornergrat. Take in inspiring, panoramic views of the Monte Rosa massif and majestic Matterhorn, before traveling by train to your next stop, where you will embark on a guided nature walk through idyllic meadows and alpine flora while en route to a gorgeous alpine lake. Return to Zermatt by train to savor a delectable late lunch waiting for you at the chalet, before delighting in a free afternoon to relax at your leisure or shop in the center of the village. This evening the chef will prepare a feast for you to enjoy comfortably at home.

MEALS: Breakfast, Lunch, Dinner
Salute the morning with a satisfying breakfast at the chalet, before setting off by chauffeur for the picturesque, high elevation vineyards of Valais, nestled along the Rhône River. Be welcomed to the estate of a boutique winemaker who will lead you on a special hike through beautiful terraced vineyards, stopping along the way to taste unique grape varietals right from the vine. Your exclusive wine experience will continue as the winemaker invites you for a traditional Swiss fondue paired with a flight of their small batch wines produced from rare local varietals like Diolinoir, Humagne Rouge and Petite Arvine. After returning to Zermatt, a late lunch will be prepared for you at the chalet followed by a free afternoon and evening to take advantage of the property's glorious amenities and enjoy a delicious dinner created by the chef.

MEALS: Breakfast, Lunch, Dinner
Today you will experience the bliss of pure rest and relaxation made to measure. Following a leisurely breakfast, delight in a full spa experience that will include a rejuvenating massage treatment, alternating one hour per guest, and plenty of time to enjoy your at home spa facilities. Lunch will be served and free time will be had as you luxuriate to your heart's content from morning until evening. Take time to venture into the village or remain comfortably at home, the day is yours to decide. In the evening the chef will prepare a lovely dinner for you at the chalet, topping off a magnificent day or leisure.

MEALS: Breakfast, Lunch, Dinner
After this morning's breakfast, be transported to the fertile landscapes of the Lower Valais peppered with orchards and vineyards of plenty, for a very special introduction to one of the most endearing cultural symbols of the Valais region, the majestic and hard working Saint-Bernard. Be greeted by an expert handler and their adorable canine companions before embarking on a guided nature walk through scenic forest trails while getting to know the valiant history of this emblematic Swiss breed and their cheerful character up close. Upon returning to Zermatt, lunch will be served and a leisurely afternoon and evening will be yours to enjoy.

MEALS: Breakfast, Lunch, Dinner
Take advantage of a full free day to set off for some scenic hiking or skiing independently. During warm weather months, you can opt to add a guided hike through the idyllic alpine landscapes that surround Zermatt village. During the winter ski season, you will have the option to add a deluxe one day ski package, which includes ski passes and lessons with private ski instructors dedicated to your travel party.*

*Please inquire about adding these exclusive, seasonal experiences to your Encounter.

MEALS: Breakfast, Lunch, Dinner
Following breakfast at the chalet, your chauffeur will transport you to the Chablais AOC wine region, located between the Alps and Lake Geneva. Led by the in depth insights of a Swiss wine expert, set off on a guided visit of the enchanting 13th century Château d'Aigle (Aigle Castle), nestled amongst dreamy vineyard landscapes, before learning about the region's ancient winemaking traditions built upon the Chasselas grape varietal, during an exclusive tasting flight of regional Swiss wines. Next, be invited into the cellar of a small batch producer for a special cantina visit and tasting of their refined Chasselas wines. A chef prepared lunch awaits you at the chalet as does a free afternoon to enjoy shopping in the village, relaxing at your home spa, or spending tranquil moments reflecting on your splendid time in Zermatt. Tonight you will raise a glass to your Swiss getaway with a delectable, multi-course dinner of gourmet creations by the chef.

MEALS: Breakfast, Lunch, Dinner
Wake to one more bountiful breakfast before meeting with chalet staff to complete check-out. Be greeted by your CB Regional Ambassador and depart by private chauffeur for either Zurich Flughafen Airport or Milan Malpensa Airport, and the end of your Encounter.

MEALS: Breakfast
Pricing for this CountryHouse Encounter begins at:
June thru October
$10,500/per person*, based on double occupancy and a travel party of 8
$9,500/per person*, based on double occupancy and a travel party of 10
November thru April **
$17,000/per person*, based on double occupancy and a travel party of 8
$14,500/per person*, based on double occupancy and a travel party of 10
*The price of your CountryHouse Encounter will be determined by your travel party size, requested dates, and any additions or overages as related to daily incidentals, organized meals & snacks, and/or scheduled chauffeured transportation.
**Peak winter season pricing will be applied to booking requests during holiday weeks, December through February.
A seamless travel experience from arrival to departure
24/7 support during your CountryHouse Encounter & the dedicated local assistance of a CountryBred Regional Ambassador
Chauffeured, private transportation for arrival & departure transfers & all touring activities, as indicated in the itinerary
Daily private chauffeur service, as indicated in the itinerary
Private touring with our professionally licensed & English speaking Regional Ambassador, as indicated in the itinerary
A curated selection of signature local experiences & engaging expert-led activities, exclusively developed to showcase the culture and cuisine of your home away from home
All entrance fees, required reservations & tickets associated with touring during your CountryHouse Encounter
In-residence dining highlighting seasonal ingredients and regional flavors, including daily breakfast & one in-house meal per day
Organized dining experiences outside of residence, as indicated in your itinerary
Daily assortment of snacks and refreshments, including wine, beer, soft drinks, water, coffee & tea
Daily housekeeping service with midweek changing of linens & towels
Laundry service at one load per person, is included during your stay
All electricity, water & gas
Unlimited internet access
Traveler Welcome Package
Taxes & base gratuities for the staff of the residence, private chauffeur & Regional Ambassador
International or regional airfare
Airport taxes and charges, airport parking or excess baggage charges
Expenses for activities/excursions not included or identified in the Encounter itinerary
Transportation expenses incurred during free time
A-la-carte food orders, alcoholic beverages or wines outside of pre-arranged menus during organized meals
Any meals or beverages during free time, not indicated in the Encounter Itinerary
Personal expenditures and personal spending money
In residence incidentals not indicated in the Encounter Itinerary
Travel insurance including health, accidents, lost baggage and trip cancellation
Passport and Visa expenses
All other items that are not mentioned or included in your Encounter itinerary
Once you submit your Booking Request, our team will get to work confirming whether your preferred travel dates are available. Within 72 hours of receiving your Booking Request, we will provide you with a quoted trip price for your preferred dates and travel party size, along with booking instructions that will include steps on how to submit your required trip deposit.
What is the minimum & maximum occupancy for the property featured in this CountryHouse Encounter?
The property featured in this CountryHouse Encounter is available for exclusive rental only. The property rental requires a minimum occupancy of 8 guests, and can accommodate a maximum of 10 guests.
Why is my quoted trip price different than the published starting price per person?
While our CountryHouse Encounters are pre-designed and ready to book travel experiences, there are important factors that may impact the quoted trip price, namely property availability, number of travelers in your party, the minimum stay required, and whether you are requesting to travel during high or low season in a specific region or during a national holiday/special event.
What happens if my requested travel dates are not available?
Should your requested travel dates not be available, or if they happen to encompass a national holiday or special event that will significantly impact your quoted trip price, we will certainly let you know and work with you to identify alternate travel dates.
January
February
March
April
June
July
August
September
October
November
December
This CountryHouse Encounter includes a chauffeured private transfer from Zurich Flughafen Airport or Milan Malpensa Airport upon arrival, and a chauffeured private transfer to Zurich Flughafen Airport or Milan Malpensa Airport for departure.
Private transfers to and from alternate locations not included as part of this CountryHouse Encounter, such as a residence, hotel, car rental office, etc., can be requested at an additional cost.
Upon arrival, you will be welcomed by your CountryBred Regional Ambassador who will introduce you to your CountryHouse, be available to answer any questions you may have, and ensure that you are able to settle into your accommodation with ease.
Prior to departure, your CountryBred Regional Ambassador will facilitate a final walk through of your accommodation, and go over any charges or incidental charges you may have incurred during your stay, which are not included as part of your CountryHouse Encounter.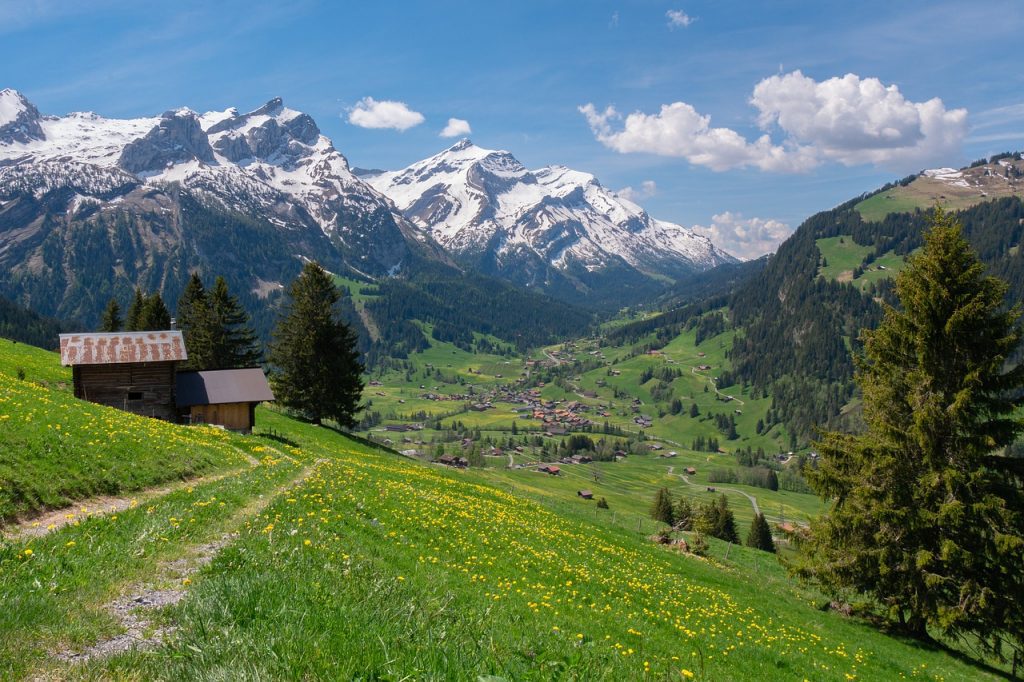 Whisk away on an idyllic adventure through Switzerland's most enchanting corners, from the fairytale charms of Luzern and the emerald green pastures of the Emmental and Gruyères to the majestic Matterhorn of Zermatt, alpine beauty of the Lauterbrunnen Valley and cosmopolitan charms of Zurich.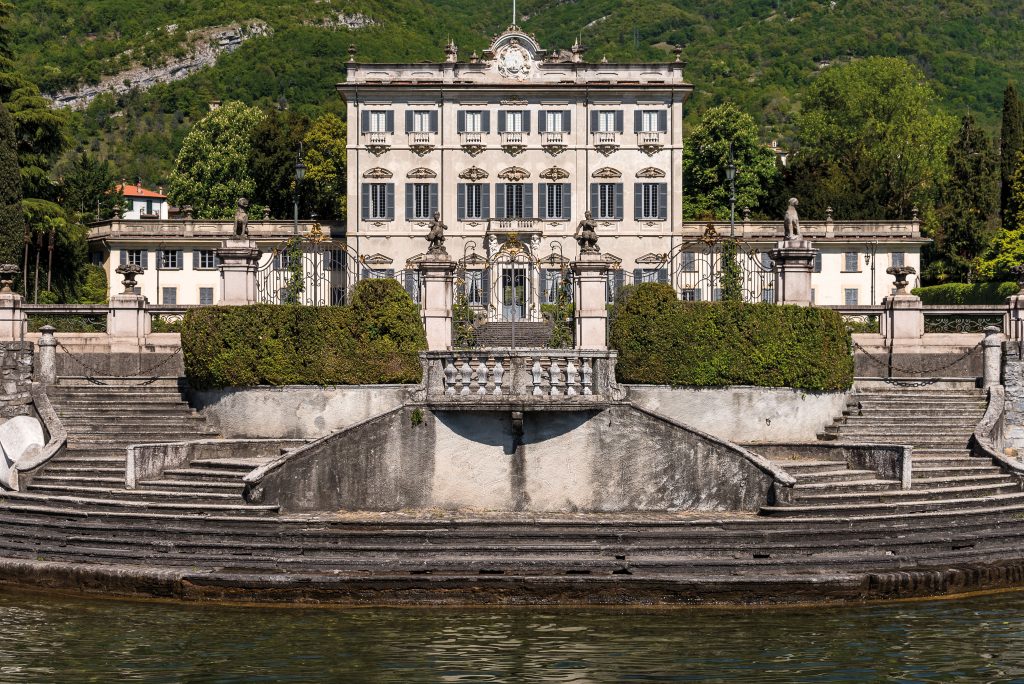 Relive the dazzling opulence of the Belle Époque as you fall in love with luminous Lake Como from your 16th century aristocratic residence turned exquisitely private lakefront villa.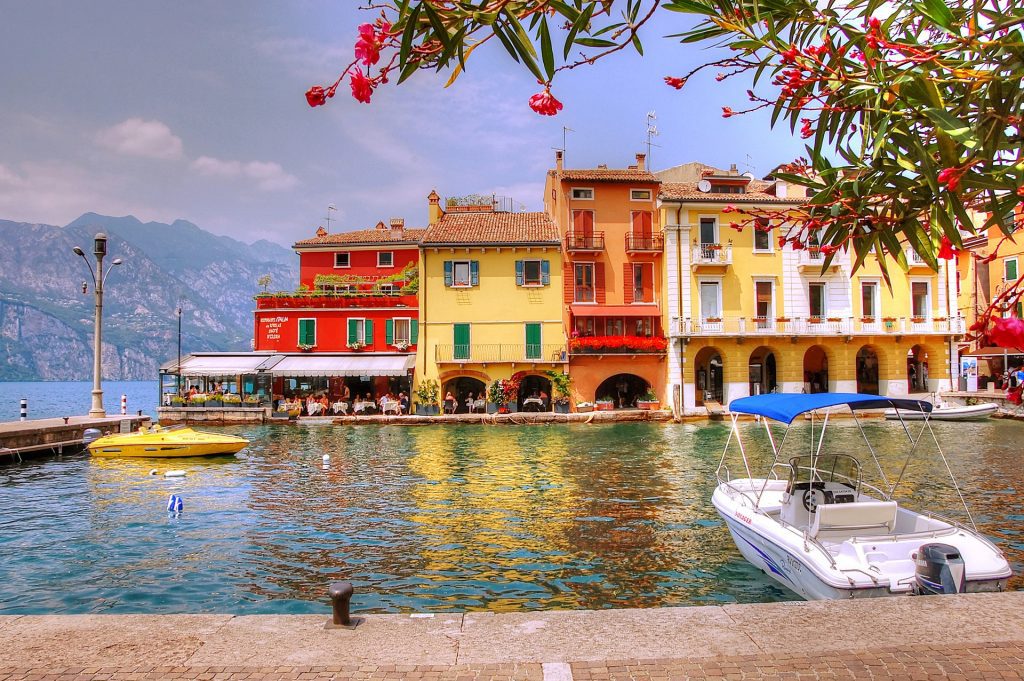 Lake Districts of Northern Italy
Discover the centuries-old allure of Northern Italy's enchanting lake districts, from the hidden hamlets of Lake Orta to the majestic landscapes and regal villas of Lake Maggiore, Como and Garda.
"Our second CountryBred travel experience proved to be just as rewarding as the first-- our journey through the splendors of Switzerland unfolded with the exquisite precision of... well, of a Swiss watch. Our chauffeurs were always there when we needed them, our guides were all bright and engaging people we enjoyed knowing, and the hotels we stayed in convinced us that the Swiss are the most likable and efficient hoteliers in the world. (Plus, the mountain scenery over there isn't too shabby!) In short: our thanks to CountryBred for another great and memorable trip."
"I loved all the personalized, attention to the utmost perfection from CountryBred. Our group of four would love to use their services again for future travel. Everything ran like clockwork, and all stress was removed from the entire 10 days of travel. Questions are asked before you book your trip, to create the trip of your dreams. Can't wait to use their guidance again!!!"
"We can't say enough about our trip at every level. The first class accommodations; the wonderful food and wine experiences; the regional ambassadors; and most importantly, the intricate trip details that were so well planned and executed throughout our stay."
Interested in a 100% tailor-made experience?
Perfectly handcrafted just for you. Our Couture Encounters are artfully designed start to finish according to your cultural interests, preferred travel pace, and ideal length.