Wines of Lombardia: Franciacorta
Wines of Lombardia: Franciacorta
Situated in the eastern most part of the Lombardia region, Franciacorta is a hidden gem amongst Italian wine districts. A sumptuous landscape of castles, abbeys, and vibrant green hills blanketed with lush vineyards that scatter through 19 communities, Franciacorta wine country is an unspoiled rural paradise within the province of Brescia. The impressiveness of the countryside is only further accentuated by the vibrant local wine culture of the area, which includes a great number of annual wine and food festivals, a network of gourmet gastropubs and seasonal exhibitions, all celebrating the area's unique vinicultural spirit. There is even a yearly treasure hunt where wine enthusiasts can partake in a hands-on exploration of the area's art, history and wine.
While an overall vinter's playground, Brescia's wine country is perhaps best known for its signature sparkling wines. Originally a staple within the domestic world of Italian wine, Franciacorta was the first Italian wine produced exclusively through bottle refermentation to obtain the nation's highest classification of DOCG. The sparkling wine is created by blending together a combination of Pinot Nero, Chardonnay and/or Pinot Bianco grapes. The initial base wine is inoculated with yeasts and bottled about 7 months after its vintage. The wine will then stay a minimum of 18 months in the bottle before being disgorged, after which additional yeast is added to activate a second fermentation in the bottle, and the wine is refermented anywhere from 24-67 months. The winemaking process is slow and defined but well worth it, as the result is an elegant sparkler that pleases with every sip. Below are a few of the different types of Franciacorta commonly found within the area: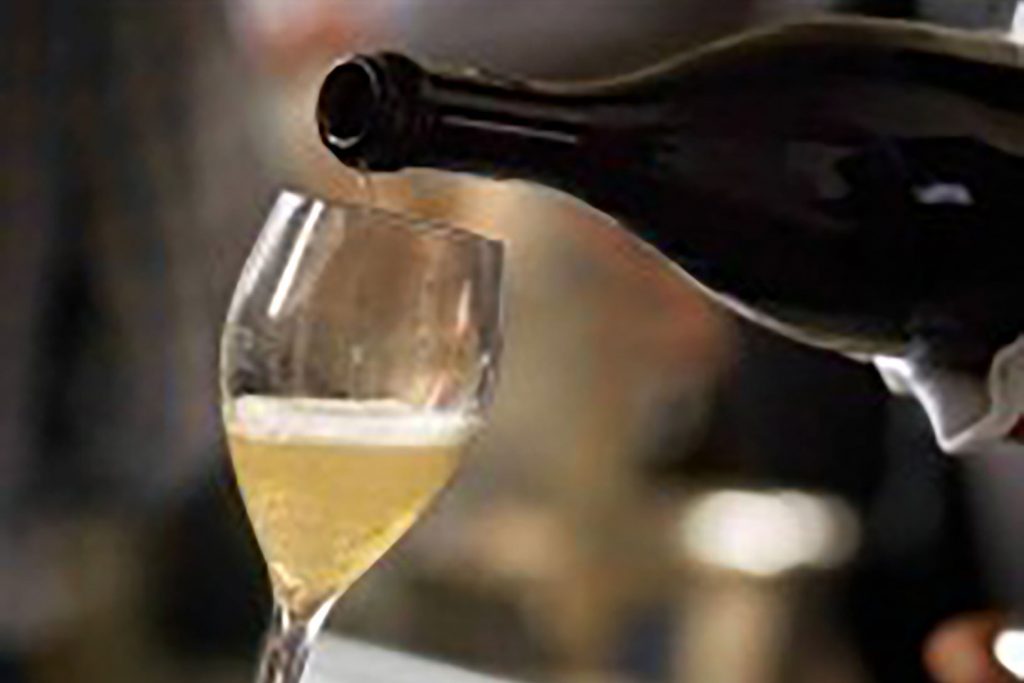 FRANCIACORTA
A blend of Chardonnay, Pinot Nero and Pinot Bianco grapes, Franciacorta displays a straw yellow hue with tinges of green. Its taste reveals hints of dried fruit and cloves with the essence of figs, almonds and hazelnut, eliciting a savory but fresh finish on the palate. The wine is typically refermented in bottle for a minimum of at least 18 months.
VINTAGE
The base wine for a Vintage Franciacorta must be created from at least 85% of a single vintage. The refermentation in the bottle must take place for a minimum of 30 months, putting the winemaking and maturation at a minimum of 37 months in total. The taste of the wine mirrors weather conditions from the year of harvest as well as the quality of the grapes, which are chosen during optimal climate conditions and according to a uniform standard of ripeness. As such, labels of Vintage will display the year of harvest.
SATÈN
Franciacorta Satèn is a blend of Chardonnay and Pinot Bianco grapes, which different from other Franciacorta wines, exudes a signature softness due to a lower bottle pressure. Its taste is creamy with hints of fragrant fruit, flowers and almonds. The wine bursts with fresh ripe fruit and always maintains a soft finish in the mouth.
ROSÉ
The Franciacorta Rosé is blended from a minumum of 25% Pinot Nero with the remainder being Chardonnay and Pinot Bianco grapes. Each of the grapes are vinified separately and the percentage of Pinot Nero included in the blending process can drastically vary the flavor amongst different  Rosé wines.
RISERVA
All Franciacorta Riservas are aged in bottle with added yeast for a minimum of 5 years, making it the ultimate representation of the region's vintners and their terroir. The Riserva vinification method is applied to Rosé and Saten varieties as well.
The Franciacorta area is also noted for producing exceptional Grappa, which on its own has received DOC status. Intriguing culinary delights including lake fish, peasant dishes, beef roasts and hearty polentas, combined with world class sparkling wines, make this province a gastronomical paradise not to be missed.